Photos of Vanity Fair, Abbie Cornish, Amanda Seyfried, Rebecca Hall, Kristen Stewart, and Anna Kendrick in Vanity Fair 2010-02-01 10:00:51
Vanity Fair Crowns a New Hollywood With Kristen and Anna
Vanity Fair rounded up nine of the brightest young stars for its annual "Hollywood Issue." Kristen Stewart led the way on the cover with Abbie Cornish and Carey Mulligan, while Amanda Seyfried, Evan Rachel Wood, Emma Stone, Rebecca Hall, Mia Wasikowska, and Anna Kendrick rounded out the gang — check out lots more photos at the magazine's website. Anna Kendrick represented team Twilight with Kristen, though she opened up about her crazy year of promoting movies with both Robert Pattinson and George Clooney. When asked about who she talks about more, Anna said, "At this point it's George. I've given up on talking about Rob. I usually say, 'He's great.' Team Kristen!" Looks like there are lots of leading ladies to root for in the upcoming issue, which hits newsstands nationally on Feb. 9.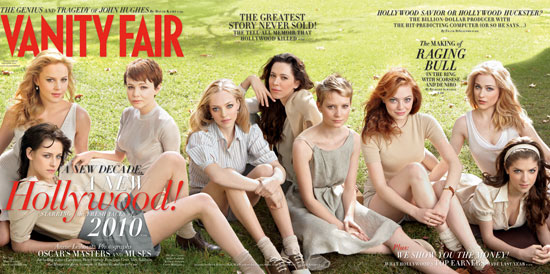 Photos courtesy Annie Leibovitz exclusively for Vanity Fair
To see a video from behind the scenes of their shoot, just read more.