Photos of Victoria Beckham at LAX; Talking About Her Fashion Lines
Victoria Plans to Stay Fashionable For a Very Long Time
Victoria Beckham arrived at LAX yesterday to catch a flight out of town following her weekend at home with her sons. She's heading off for her latest trip, possibly to join David in London as he tends to family issues back home. Victoria's also juggling her expanding fashion business, having just released the ad images for her upcoming sunglasses collection. She also just gave a revealing interview about her many lines in advance of her collection launching tomorrow on Net-a-Porter.com. She opened up about her career longevity, her inspiration, and whether or not she has advice for Ungaro's Lindsay Lohan. Here's more: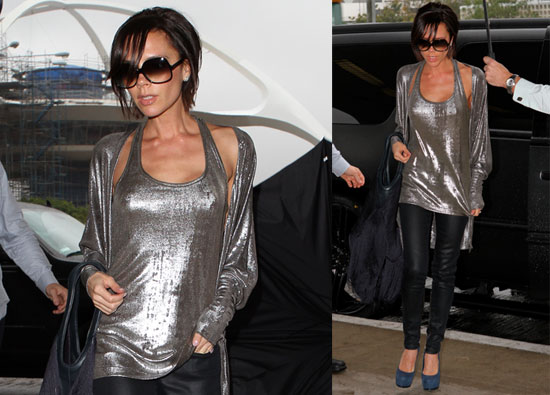 On sticking around for a long time: "I plan on still being here in 25 to 30 years' time . . . With everything that I do, I will only do it after I've done all my homework. I really am a perfectionist, and I don't want to rush anything. It's not just about putting my name on a product and getting it out there. That's not what is important to me."
On giving advice to fellow designer Lindsay Lohan: "Goodness, I don't think I could give anybody any advice. I'm only in my fourth season. I think there is room for everybody and I always say good luck to everybody. I don't really pay attention too much to what anybody else is doing except for myself. Obviously, I am aware. I'm not being stupid. Everybody is doing their thing and that's cool."
On how her childhood inspires her now: "I've always been driven. I was mentally and physically bullied when I was at school and that gave me a very thick skin. . . . The only reason for me bringing that up is I have always been a fighter . . . I have always had to work very, very hard with everything I do. That is just my work ethic. That's just me. That's my DNA."