Photos of Victoria Beckham at London Hotel and Heathrow
Victoria Beckham Weighs In on the Merits of Sleep and Sex
Victoria Beckham looked polished in black as she left her hotel and made her way to Heathrow Airport in London today. She tried to go a little incognito with her hat, but Victoria isn't afraid to share more personal details — she recently opened up to Allure for the December issue. Victoria shared some rather intimate details of her home life with David, including their nighttime routine and how she prefers to sleep. Here's more: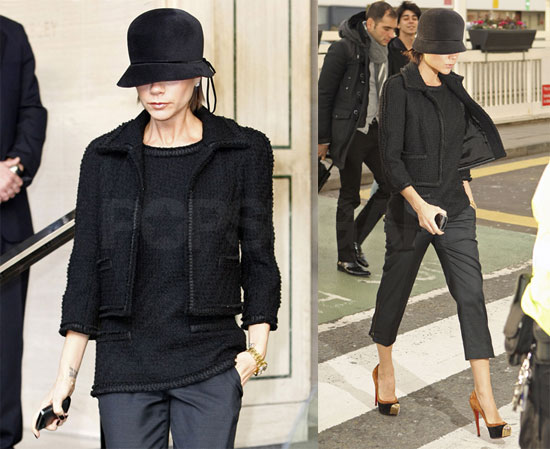 On whether she prefers sleep or sex: "I'm getting into bed with David Beckham every night, so, you know, there'd be something wrong if I said, 'sleep.'"
On what she sleeps in: "I tend to wear nothing [to bed] . . . But David bought me these little sets from Agent Provocateur, his favorite store."
On what she eats: "I'm not going to lie — I'm not one of those people that says, 'Oh, I eat hamburgers.'"
To see more of Victoria and what she has to say about self-tanning and the Spice Girls, just
.
On self-tanning: "I don't self-tan anymore. It's frustrating when people criticize my color. It's the color that I am! I wear sunblock, but I live in a hot climate."
On being called Posh: "I'm so respectful of the Spice Girls, and I love all the girls dearly, but it's nice now that people know my name. But either is a compliment. I mean, I've been called a lot worse."