Photos and Video of Charlize Theron At NYC Premiere of The Burning Plain and On Jimmy Fallon Playing Beer Pong
Charlize Isn't Plain While Getting Nude and Playing Beer Pong
Charlize Theron was perfectly on trend in her hot blue dress at the NY premiere of The Burning Plain last night. She's been looking fantastic promoting her film all over including a stop by Late Night with Jimmy Fallon where she beat him in a game of beer pong. She also talked to USA Today about how she thinks about her nude scenes, upcoming sequels and what she learned about relationships as she grew up. Here are highlights: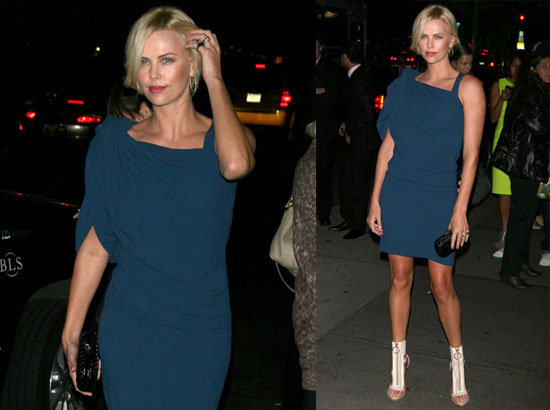 On nude scenes: "I'm not some exhibitionist. I think people think I just love walking around naked. When you start making it about yourself, you stand in the way of doing your job. I have to sit in an editing room with (director) Guillermo Arriaga and a bunch of execs, and if I had to sit there and think about myself and these men watching me, I think that would make me insecure. I'm just like every other girl out there. I would cringe."
On watching herself on screen: "There was a time in my life where I understood actors who said they don't like watching themselves. But when I made the mental switch that I was not watching myself and watching an actual character, that was the day I actually could look at things from a distance."
On her parents: "I looked at my parents and I was so judgmental, and you don't understand the struggles of what it is to be in a marriage and be committed and raise children and to be part of a family. Their marriage wasn't great. As a child, you see things very differently, and then I got older and I went, 'Wow, that's amazing.' You start going out with a couple of boys, and some of them aren't so nice. There's a lot more that plays into this whole relationship thing than you think."
To see more of Charlize and video of her playing Beer Pong with Jimmy Fallon just read more.