Photos and Video From Kristen Stewart on The Jay Leno Show
Kristen Stewart Takes a Minute, Tries to Win It on Leno
Kristen Stewart paid a visit to The Jay Leno Show last night, and she started off her chat by talking about her recent trip to London for the BAFTAs — though she didn't mention her nights out with Robert Pattinson. She and Jay compared notes on the highs and lows of British cuisine, before Kristen mentioned her recent Oscars runin with Panic Room costar Jodie Foster. We got a sneak peek today at Kristen's new Eclipse trailer, but she was all about talking about her next film to hit theaters, The Runaways. She also gamely joined fellow guest Guy Fieri in one of his Minute to Win It challenges — the videos are after the jump!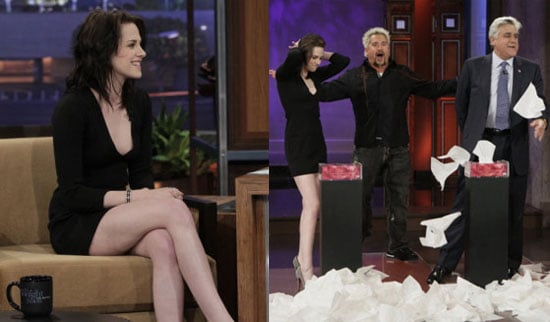 Photos courtesy of NBC
To Kristen's interview, just
.