Photos and Video of Jessica Simpson Performing in NYC 2010-03-11 10:00:00
Jessica Sings, Doesn't Brush Her Teeth, Is OK With Her Tummy — Details From Her Private NYC Show!
Jessica Simpson was a busy bee in NYC yesterday, starting with a stop by The Late Show to talk about The Price of Beauty and, of course, her well-publicized love life. She was then off for a private show hosted by iheartradio, where she belted out "Who We Are," the new song you guys feel so-so about. Jess also screened the first episode of her show, which was actually hilarious and showed her in top Newlyweds form — think happy ending jokes after a Thai massage and eating bugs and you'll get the idea. Her BFF Ken Paves was there to show his support, and he even shared his drink with Jessica during the screening. Post performance, Jessica took the stage for a Q&A with fans and touched again on her love life, as well as her hygiene regimen and Heidi Montag's body image. She said: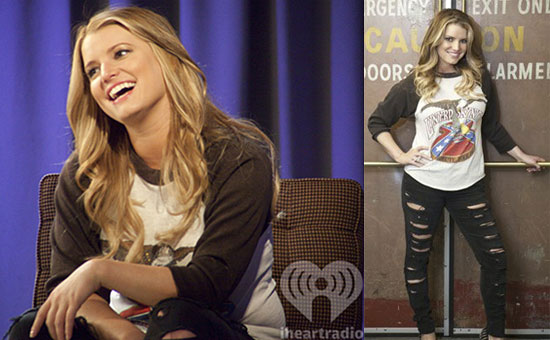 On being OK with her body: "I can sit here and have my stomach hang over — it's a great thing!"
On her oral hygiene: "I don't brush my teeth . . . No, really! I just use Listerine. And sometimes I'll just use my sweater."
On John Mayer: "In John's case, I think he was trying to make a joke. But it wasn't a joke — I don't accept it. I really find it very disappointing. Those are intimate details that you don't want the world to know. He gave away my game! I'm like the good girl, and then the bad girl sometimes! I'm like, that's my game! Maybe in his mind he was thinking he was giving me a compliment, but . . . he wasn't."
To see more photos of Jess and read what she has to say about Heidi Montag, her own crazy beauty antics, and a future in TV production, just read more.
On Heidi Montag "The media puts so much pressure on women to feel beautiful, and when you're in a place of purpose and people are listening to you, that's a challenge — like, do you feel beautiful or not? Are you going to let the world take over you? Are you going to feed into what people think is beautiful or are you going to find it yourself? So I don't really know anything about her . . . I know that she had lots of plastic surgery!"
On the craziest thing she's done to look more beautiful: "My sister's husband Pete was having a birthday party, and we were at my parents' house, and it was a whole Star Wars theme. Everyone was going as Princess Leia. So I was like, 'You know what, I think guys will dig it if I show up as Chewbacca. If I have on some like, full on facial hair.' . . . We made this dress out of a rug, but I thought I'm like a hot Chewbacca."
On going into TV production: "There are things I feel in my heart can be successful . . . There are ongoing projects that I have — fun ideas, but I can't talk about them yet!"