Picture of Katherine Heigl in a Bikini
Katherine Heigl's "Ridiculous" Bikini Story — Funny or Obnoxious?
Katherine Heigl had some drama at her LA home this week when cops were called over a neighborly dispute while she and her husband were in their hot tub and video of the couple talking to law enforcement in their bathing suits hit the Internet. She called into Ryan Seacrest's radio show this morning to explain the incident, saying: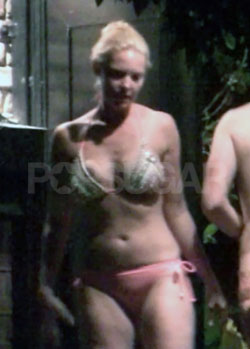 "We were chillin' in the hot tub, it was just the two of us. We had just put the baby down, it was like 8:30, 9 at night. I wore my most ridiculous bikini, it was awesome. He [the neighbor] starts screaming at us to go inside. I'm like, 'I've had it, I've had enough of this. It's ridiculous, it's harassment and I'm calling the police.' We called my security and they called the police and they went and talked to him and then came over and talked to us. At that point we were a couple cocktails in. That's the other thing that's so ridiculous, we were totally hanging out, like just making out in the hot tub. It was totally PG, we're not idiots. We're not gonna be out there doing anything scandalous."
So what do you think — is Katherine's hot tub makeout story totally funny or really obnoxious?