Picture of Katy Perry and Russell Brand at the MTV Europe Music Awards
Katy and Russell Make Their First Appearance as a Married Couple at the MTV Europe Music Awards
Katy Perry and Russell Brand made their debut as husband and wife last night at the MTV Europe Music Awards in Madrid. They headed to Europe after wrapping up their honeymoon in the Maldives and ceremony in India. Newlywed Katy was among the many gorgeous ladies on the red carpet who chose pink lipstick, which she paired with a sparkly movie ticket dress. Katy's most noticeable accessory as she posed with her husband was her brand-new diamond covered wedding ring. She played host at the event last year, but yesterday Eva Longoria had a ton of fun taking over the job.
Katy shared the stage with pal Rihanna, who recently admitted to feeling terrible about missing the Brand-Perry wedding due to her responsibilities promoting her upcoming album Loud. Shakira was on the long list of performers, and she showed off her iconic abs in a small top. Taylor Momsen brought along her band The Pretty Reckless, while Kid Rock, Kings of Leon, and Jared Leto's 30 Seconds to Mars added some testosterone to the show — there was also a whole lot of skin on display, including from a leotard-wearing Miley Cyrus. Make sure to check out the full list of winners at PopSugar UK.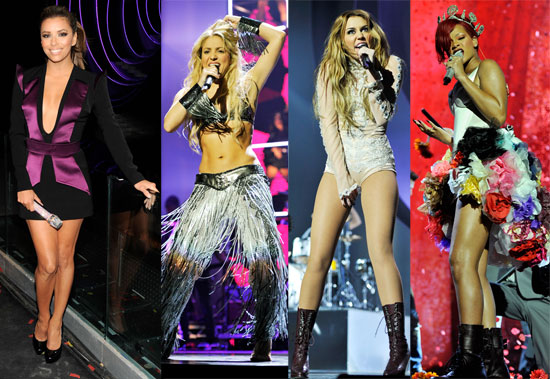 To see more from the show, just read more.