Pictures of the 2010 CMA Awards in Nashville
Carrie, Taylor, Gwyneth, and Leighton Make a Strong Showing at the CMA Awards
The red carpet at the 2010 CMA Awards in Nashville brought together lovely ladies from both the music and acting worlds last night. Cohost Carrie Underwood chose a slate gray Talbot Runhof gown for her arrival while Gwyneth Paltrow went with a sexy, side-baring Atelier Versace dress for her country music debut. Gwyneth's Country Strong costar Leighton Meester mixed things up in Emilio Pucci and Taylor Swift went with a bold red Monique Lhuillier. W cover girl Katherine Heigl, who was there to support her brother-in-law Lady Antebellum lead singer Charles Kelley, showed up in a bright blue strapless Farah Angsana number and was just one of the gorgeous girls with a flawless face.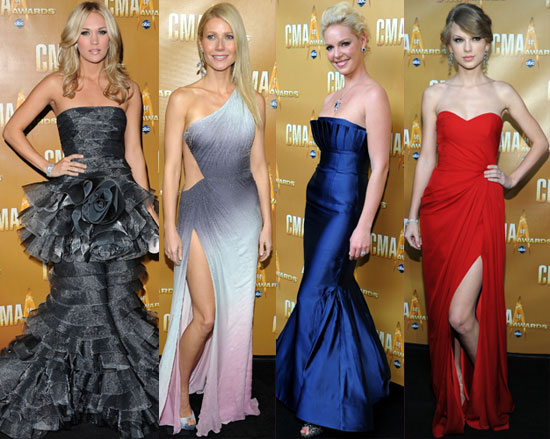 Carrie opened the show with a musical number alongside Brad Paisley, who was named Entertainer of the Year, before changing into an array of gorgeous looks throughout the night. Nicole Kidman watched from the audience in white Dolce & Gabbana as her husband Keith Urban took the stage while Katherine and Josh Kelley cheered on Lady Antebellum as they accepted two statues. Gwyneth geared up for her big night with a pint of beer, and her much-anticipated live performance didn't disappoint — what did you think? She was game for a little teasing by Carrie and Brad, who asked if she could score them Coldplay tickets, though Chris Martin wasn't there to watch his wife's musical number. Taylor Swift didn't continue her winning streak, but she did take the stage to perform "Back to December" — congrats to everyone honored during country's big evening!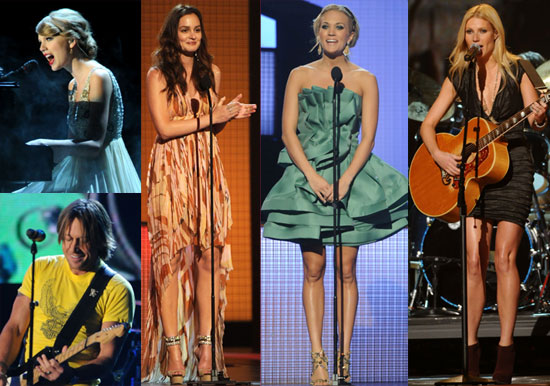 To see more from the CMAs, just read more.
Images include: Carrie Underwood, Katherine Heigl, Gwyneth Paltrow, LeAnn Rimes, Brad Paisley, Nicole Kidman, Keith Urban, Kimberly Williams, Josh Kelley, Leighton Meester, Sheryl Crow, Billy Ray Cyrus, Taylor Swift, Miranda Lambert, Julianne Hough, Kid Rock, Martina McBride, JoAnna Garcia