Pictures of the 2010 World Cup Kickoff Celebration Concert 2010-06-10 16:30:00
John Travolta, Pregnant Kelly Preston, Shakira, and Alicia Help Kick Off World Cup Mania!
The World Cup got underway in South Africa tonight, and it's already quite an amazing affair — will you be watching the games? Fergie and the Black Eyed Peas helped get things started while Alicia Keys kept her baby bump covered up with a chain-link top after showing it off at the airport with her fiance. John Legend also took the stage, and Shakira belted out the tournament's theme song, "Waka Waka," just one of the many WC-related tracks hitting the airwaves. Cristiano Ronaldo paid a visit to Nelson Mandela, and the Travolta family were some of the first A-list American celebrities to head to Johannesburg. John is the Qantas global ambassador and brought his daughter, Ella, as well as wife Kelly Preston, who was debuting her own pregnant stomach. We're getting the party started on the PopSugar Network as well — Tres has the hottest shirtless guys to expect and their beautiful WAGs, Buzz made their soccer dream team, and Geek has all the apps to keep you updated all month long.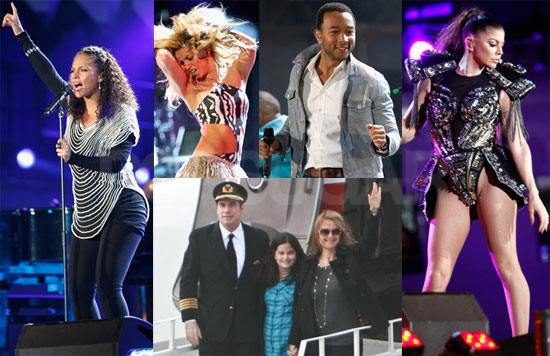 To see more from the World Cup kickoff, read more.