Pictures of Alexander Skarsgard in Munich Celebrating True Blood's Debut on German TV
Alexander Skarsgard Says Guten Tag to Germany on a Break From Battleship
Alexander Skarsgard got into the Oktoberfest spirit with some lucky barmaids today in Munich to celebrate the debut of True Blood on German television. The series is currently on hiatus here in the States following the big season three finale, but Alexander's still hard at work. He spent the end of Summer away from his girlfriend, Kate Bosworth, filming his big-budget blockbuster Battleship with a frequently bikini-clad Rihanna in Hawaii. The actor recently talked to GQ UK about his new costar, his risqué Rolling Stone cover, and why he doesn't mind getting naked on screen. He said: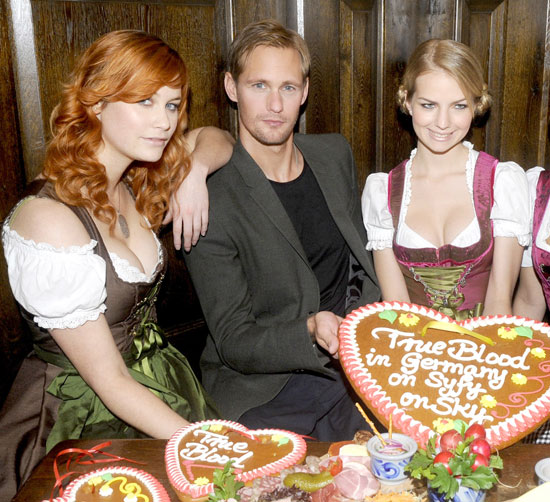 On why he's fine with stripping down on set: "Because I was born that way? I didn't write the scripts but I don't mind it if it makes sense. It's about being comfortable and if it makes sense story-wise. The only time it can get awkward is if you feel exploited, like, 'Why am I standing here naked?' and I've never felt that. There's always a reason for it on the show and it's always at great moments: fun, crazy scenes."
On working with Rihanna: "[Filming Battleship] is a different experience because Rihanna, we're out there together for a couple of months. This is her first movie but she's great, she's really really good in it and her working . . . She's got a crazy schedule. She's really diligent and I'm impressed."
On the infamous Rolling Stone cover: "[The photographer] explained it and it was just one of those things in the moment where we all looked at each other, we'd spent all day with the photographer, we felt comfortable with him, we knew that he was great and the atmosphere was right and we were like, 'F**k it, let's do it.'"
On auditioning for the part of Bill before landing Eric: "I'm pretty sure Alan [Ball] already knew that I was better for Eric than Bill. It wasn't really a case of me and Stephen for Bill. I think Alan was just scanning the market and meeting actors and everyone read for Bill. But of course I couldn't play him. I'm definitely not right for Bill."