Pictures of Alicia Keys Pregnant in Bikini on Yacht Honeymoon with Swizz Beatz
Alicia Keys Spends a Baby Bump Bikini Day With New Husband and Queen Latifah!
Alicia Keys bared her pregnant belly in a tiny bikini off the coast of France today. She was joined by her new husband, Swizz Beatz, after the two tied the knot in Corsica last weekend. Since then Swizz has been spotted living it up during a champagne-filled night out with friends. Alicia didn't look like she minds Swizz letting loose a little bit, especially since they have friends along for their honeymoon. Alicia and Swizz were joined on the yacht by their wedding guests Queen Latifah and Jeanette Jenkins.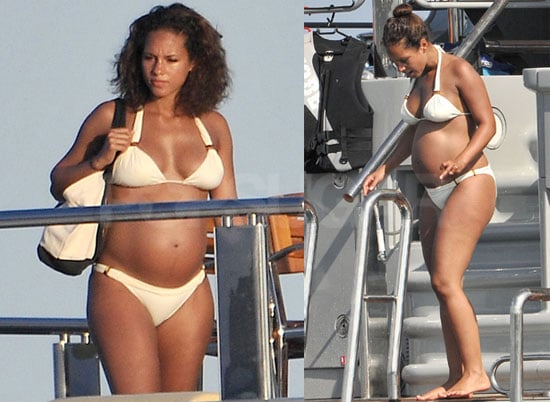 The welcome vacation-crashers were also decked out in their swimsuits for the afternoon. Queen Latifah and Jeanette's relationship has been the subject of many rumors, and the ladies looked happy to spend some time together on the Mediterranean getaway. Alicia and Swizz's big day may not have been the one you would have most wanted to attend of all the celebrity nuptials this week, though there's no denying that this looks like quite the luxurious place to hang out post "I Dos."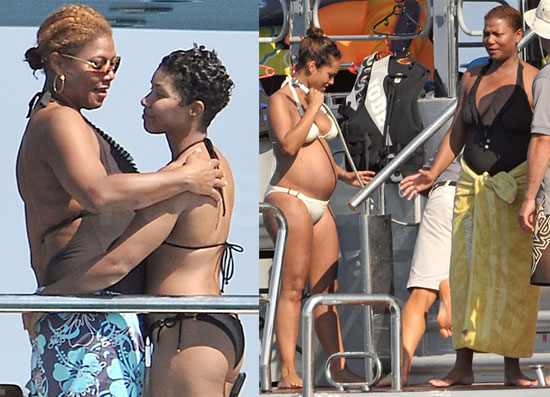 To see more Alicia in her bikini, just
.