Pictures of Alicia Keys, Usher, Eminem, Drake, and Kayne West at the BET Awards
Kanye and Alicia Wow at the BET Awards With Emotional Chris Brown
Kanye West had the honor of opening last night's BET Awards in LA with a performance of his new song "Power." Joining Kanye were some of music's most famous faces, including a fresh-from-NYC Alicia Keys. Alicia was one of the evening's big winners with two statues for Best Female R&B Artist and Best Collaboration with "Empire State of Mind." Alicia took the stage to sing, but she covered her growing baby bump with a little purple dress. The show's most interesting performance may well have come from Chris Brown, who broke down in tears during an emotional Michael Jackson tribute.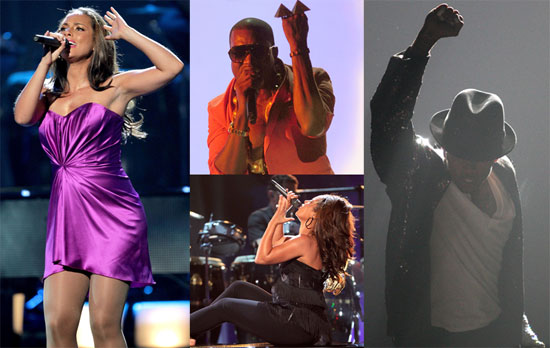 Drake's first official album came out only two weeks ago, but that didn't get in the way of him winning Best Male Hip-Hop Artist of the Year. Eminem took the next step in his exciting comeback by having his album debut at the top spot, and he was at the ceremony to perform "Not Afraid." Usher and T.I. also serenaded the crowd but denied our shirtless wishes by keeping their tops on. Lady Gaga and Beyonce, meanwhile, weren't on hand to take home their Video of the Year honor for their nearly 10-minute long "Telephone" — check the full list of winners!
To see more photos from the red carpet and the show, just read more.
Images include: Usher, Nia Long, Alicia Keys, Fergie, Eminem, Queen Latifah, Ciara, John Legend, Nicki Minaj, Diddy, Drake, Travis Barker, T.I., Trey Songz, Taboo, Will.i.am, Apl.de.Ap, Jaden Smith, Willow Smith, Nick Cannon, Ashanti, LaLa Vazquez, Tia Mowry, Laila Ali, Rozonda Thomas, Taraji P. Henson