Pictures of Angelina Jolie at Comic-Con
Angelina Jolie Wows in Leather at Comic-Con While Brad Appears in Cardboard Form!
Angelina Jolie greeted an auditorium full of fans at Comic-Con San Diego this afternoon. She was there to talk Salt in her body-hugging leather jacket and sheath skirt alongside costar Liev Schreiber. Angelina's partner, Brad Pitt, also had a movie to promote at the convention, Megamind, though despite rumors he'd make a surprise appearance, he was busy filming Moneyball and only there in cardboard cutout form — for details on that hilarity, check out Buzz's account! Angelina did have Brad by her side earlier this week at the big LA Salt premiere, where she told us how fun it was to shoot the action scenes. Today, Jolie wowed the crowd with stories from the stunt-filled set, and Buzz was in the room updating the whole time; stay tuned to their Twitter for all the latest from Comic-Con! Salt hits theaters tomorrow, which means it's almost time to see how Angelina's spy thriller does at the box office.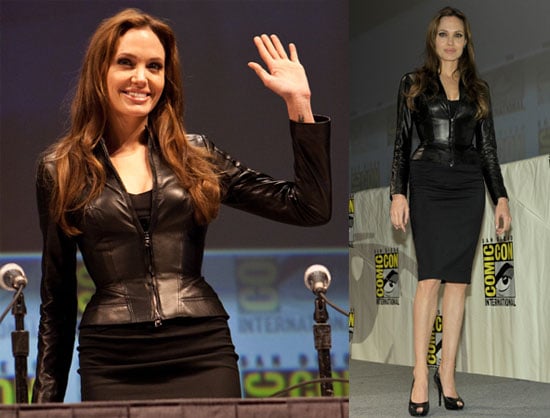 To see more Angelina and Liev, just read more.