Pictures of Angelina Jolie Leaving Comic-Con
Angelina Might Not Be Fully Sane, but Brad's Made Her a Better Person
Angelina Jolie greeted fans yesterday in San Diego before her appearance at Comic-Con promoting Salt, and afterward she headed to the airport to jet out of town. She attended a panel with costar Liev Schreiber — check out what she had to say about doing her own stunts. Angelina and Liev were also together earlier this week to attend the big LA premiere of their movie. Buzz found Angelina to be the most compelling part of their blockbuster, and we'll soon see how their project fares at the box office versus last weekend's champ, Inception. Angelina has done her fair share of press to promote their film, and she just revealed her fears about her children dating and learning to drive. In a new interview with USA Today, she spoke about not being totally sane and how Brad's made her a better person. Angelina said: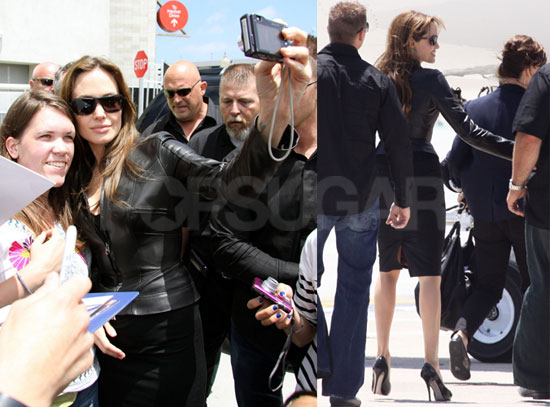 On what drew her to play Salt: "I loved that she wasn't completely good. There's something about that . . . Not to say that's me. But there's certainly a side of me that isn't completely . . . sane. Or completely 'even' all the time. We all have our dark sides."
On not reading her own press: "My evolution, and any extremes in my evolution, has been my personality, out of the nature of what's inside me. I'm very unaware of my public self. I don't read anything written about me. I don't look at magazines. I only watch the films and premieres if I have to. I still haven't seen some of my films. If you become aware of a public self, you're in danger of becoming a very artificial person."
On Brad's impact on her life: "He's definitely made me a better person. I've learned so much from him, as you do when you come together with another person. You both make each other better. You both learn about the best of each other, and recognize the things where you're failing, or where you need to step up. When it's a great partnership, you really are patient with each other. He's been a huge influence on me. In all ways, from my parenting to my art, to . . . everything."
To see more Angelina and read what she says about her real life, growing up with a famous parent, and being a female action star, just read more.
On being a female action star: "I grew up with all the guy movies, but I didn't have the reference of a woman. Now I have daughters, and a part of me wants them to have that when they grow up."
On things being more complicated than they seem: "People tend to sum up times in your life and simplify. I would say there's a way of being bold when you're young that seems very brave . . . What's perceived as tough is a very funny thing. I think to be a parent is one of the scariest, boldest things to do, as opposed to, um, getting a tattoo . . . Much more than jumping into a pool when you're 20."
On growing up with a famous dad: "I grew up in front of everybody, really. The big years of exploration . . . I got married a few times before I actually got married. You do all these odd firsts before you actually do them in life . . . I was a mother in films many times before I was a mother."