Pictures of Angelina Jolie in Oakland With Pax, Shiloh, and Zahara
Angelina Jolie Brings Zahara, Pax, and Oakland A's Loving Shiloh to a Toy Store!
Angelina Jolie brought Shiloh, Pax, and Zahara to Rockridge Kids, a toy store in Oakland, CA yesterday where they picked up a few big bags of goodies. The family is setting up camp in the Bay Area while Brad films Moneyball, which means lots of exploring for the kids after their recent trip abroad with mom. They were spotted at the pool of their Berkeley hotel and the same shop over the weekend as well as at the SF Zoo earlier in the week. Brad kicked off work on the movie down in LA, but now they're shooting the real spots where Billy Beane made history. Shiloh looks like she's already loving dad's new role as she sported an A's baseball hat! Meanwhile, Angelina's dad told us that everyone is doing great which for now means checking out what San Francisco, Berkeley, Oakland, and the area has to offer.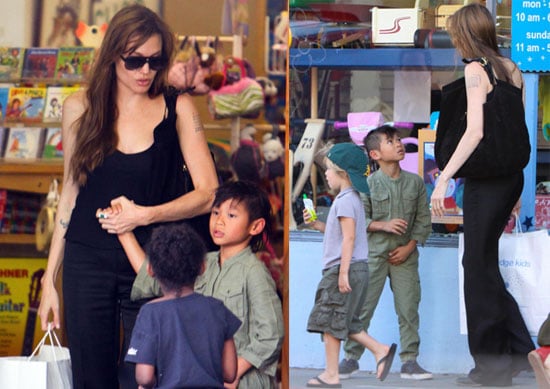 To see more of Angelina with Pax, Zahara, and Shiloh, just read more.