Pictures of Angelina Jolie Promoting Salt in Russia
Angelina Jolie Celebrates Her Salty Box Office Success in Russia!
Angelina Jolie kicked off her morning in Moscow today with a photo op promoting Salt. She was in black and white Dolce and Gabbana to pose for the cameras, but by the evening she was in a dramatic red Versace gown for the Russian premiere. Angelina has been busy doing all sort of press for the movie, including an appearance at Comic-Con, and her trainer recently opened up about the high carb diet they used to keep her in shape while shooting last Summer. Reviews for her project were mixed, but Buzz loved the star power she brought to the big screen. Her presence in the blockbuster was apparently enough to make a dent at the weekend box office — Inception was number one for the second week in a row, but Angelina's film came in at a healthy second place with $36.5 million.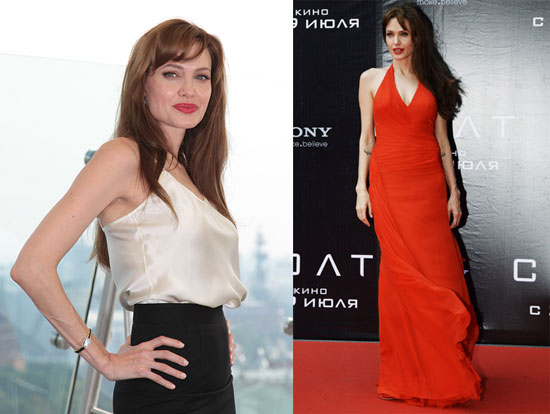 Lots more of Angelina so