Pictures of Angelina Jolie, Shiloh Jolie-Pitt and Zahara Jolie-Pitt at LAX
Ravishing Angelina, Shiloh, and Zahara Travel as We Get a First Glimpse at The Tourist!
Angelina Jolie held hands with Shiloh and Zahara as they made their way through LAX this evening to catch a flight out of town. Angelina's outing was perfectly timed as we got a first glimpse at her and Johnny Depp in The Tourist. Check out the brief teaser after the jump and stay tuned tomorrow on Buzz for the whole trailer! Brad Pitt is still finishing up work on Moneyball in LA while Angelina has been filling up her schedule with new movie projects and her philanthropic adventures as the UN goodwill ambassador. Angelina came under fire last week for a CNN interview in which she said Brad is the only friend she talks to about her causes, but as usual the criticism doesn't seem to faze her as she and her older two daughters head off on their next adventure.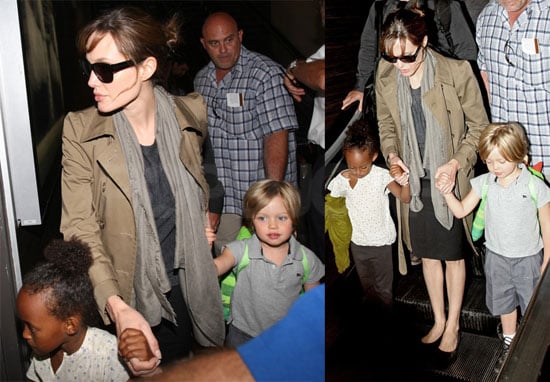 To see more of Angelina and the girls, plus the teaser for The Tourist, just read more.