Pictures of Anna Paquin, Stephen Moyer, and More Celeb Couples Getting Cozy at the Emmy Afterparties
Anna and Stephen Get Cozy as Tina, Amy, and Jon Cut a Rug at the Emmy Afterparties
The fun-filled Emmys ceremony was just the beginning of the evening as the stars flocked to the many afterparties around the city until the wee hours of the morning. The first stop for presenters, winners, and fellow nominees was the official Governor's Ball. Newlyweds Anna Paquin and Stephen Moyer were then off to the HBO soiree, with Anna changing out of her Alexander McQueen gown and into a shorter, flirtier LBD by the same designer. Stephen joked that watching Anna change in the back of the limo was his favorite part of the night! The couple kept mum on the upcoming True Blood finale as fans watched the second to last episode and reporters grilled them for spoilers. Anna said, "You know we're not allowed to tell you anything!" Her costars were equally tight-lipped, though many of the cast members told us they hope season four is as bloody and gory as ever. Stay tuned to see our red carpet interviews on PopSugar Rush.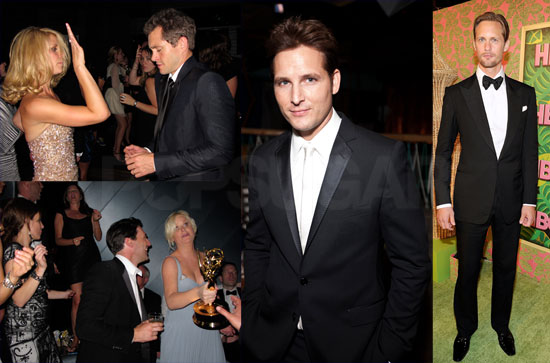 Nearby at Jimmy Fallon's private bash at Trousdale, Claire Danes, who won a best actress Emmy for her role in the HBO miniseries Temple Grandin, cut loose on the dance floor with her husband, Hugh Dancy. Jon Hamm showed off his moves in the Glee-inspired show opening, and he kept busting a move at the party alongside Tina Fey and Amy Poehler. At the ET party across town, Peter Facinelli, who looked dapper in a Dolce & Gabbana suit, expressed how excited he was that his Nurse Jackie costar Edie Falco took home a statue. He also told us that he caught up with Twilight screenwriter Melissa Rosenberg at the show, and she has given him high hopes for Breaking Dawn. He said, "I haven't read the scripts yet but she says they're really solid!" Big winning networks FOX and AMC also hosted bashes last night, where Emmy favorites from Glee star Jane Lynch, and Eric Stonestreet of Modern Family showed off their shiny new statues.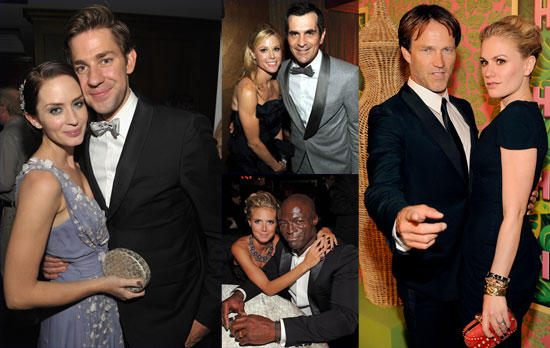 To see more Emmy party pics, just read more.