Pictures of Ben Affleck and Jennifer Garner Watching Violet and Seraphina Play Soccer in LA
Ben and Jennifer Cheer on Soccer Stars Violet and Seraphina!
It was an adorable family-filled Saturday in LA for the Garner-Affleck clan. Ben and Jennifer brought Violet to soccer camp in the morning, with Seraphina along to test out her ball-handling skills as well. The foursome hit up the park afterwards to soak up the sunny afternoon. At night, it was time for romance when Ben and Jen headed to dinner for two at Nobu in Malibu. The whole crew is back together after Jennifer brought both daughters to NYC where she's been filming Arthur. Since returning home, Jennifer and the girls wasted no time returning to their favorite activities like Thursday's smiley trip to a magic show. Ben was out of the spotlight for a few weeks while Jennifer, Violet, and Seraphina were away, but we're excited to see more of him this Fall thanks to two intense new trailers — he's down and out in The Company Men and shows off his directing skills and amazing six-pack for The Town.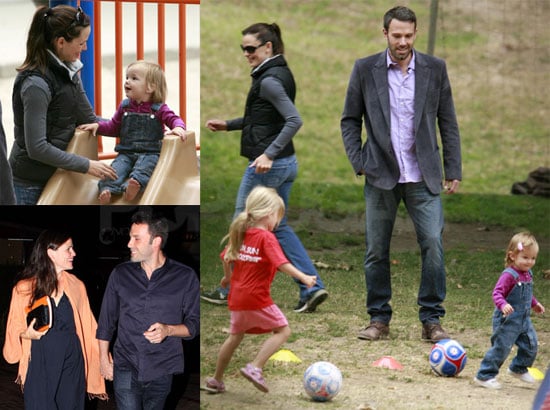 To see more of the Garner-Affleck family, just read more.