Pictures of Betty White, John Krasinski, and January Jones Rehearsing Prior to the Primetime Emmy Awards
Watch Emmys Red Carpet Coverage Live With PopSugar!
Neil Patrick Harris, Betty White, John Krasinski, and January Jones were some of the presenters who attended the Primetime Emmy Awards rehearsals in LA yesterday. Running Wilde costars Keri Russell and Will Arnett joked around during their practice run, and tonight he'll be escorting his wife, Amy Poehler, who's going head-to-head against her good friend, 30 Rock's Tina Fey, for lead actress in a comedy. All these famous faces and more will trade their casual wear for black tie in just a few hours. Join us later today for live streaming coverage from the red carpet — and don't forget to follow us on Twitter for behind-the-scenes news and photos!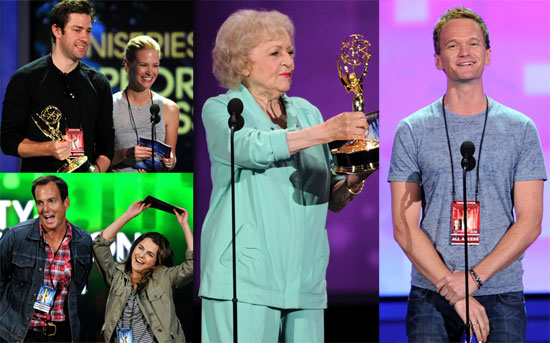 To see more photos from the rehearsals, just read more.
Images include: Keri Russell, Neil Patrick Harris, January Jones, John Krasinski, Anna Paquin, Ricky Gervais, Christopher Meloni, Will Arnett, Betty White, Stephen Moyer, Matthew Morrison, Maura Tierney, Laura Graham, Julianna Margulies, Sofia Vergara, Jim Parsons