Pictures of Blake Lively and Leighton Meester Filming Gossip Girl in NYC 2010-07-15 15:00:00
Leighton and Blake and Company Fashionably Film Gossip Girl Rain or Shine
The cast of Gossip Girl broke out their umbrellas and did their best to work around the stormy afternoons in NYC this week. Leighton Meester and Blake Lively have rejoined Chace Crawford, Ed Westwick, and their other costars after a fashion-filled stint filming in Paris, where Blake spent time with Karl Lagerfeld, who is rumored to make a cameo this season. Meanwhile, little Jenny Humphrey won't be around when GG returns in the Fall, but Taylor Momsen has a lot in the works like her gig as the face of Material Girl.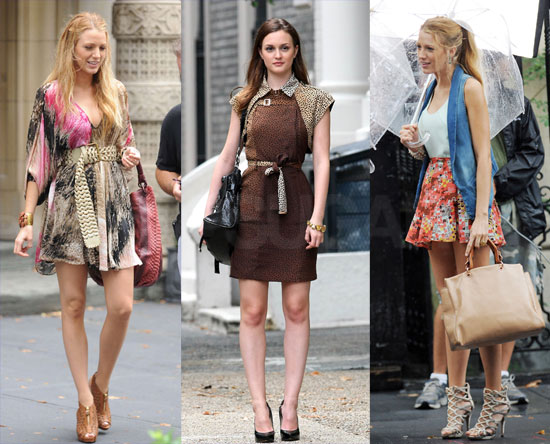 As usual, the GG cast gave onlookers a stylish show of their own during this week's shoot. The sun was back out today as Blake rocked a dramatic maxidress. Yesterday, after the rain let up, she swapped out a printed miniskirt for a silk tunic, while Leighton traded a bright, floral sheath for a leopard-print trench. Reunited real-life lovebirds Blake Lively and Penn Badgley ducked out of inclement weather on Tuesday by sneaking off for kisses between scenes. Meanwhile, Blake's also having a great Bikini Bracket moment, though she's still in one of the hottest matchups of round two.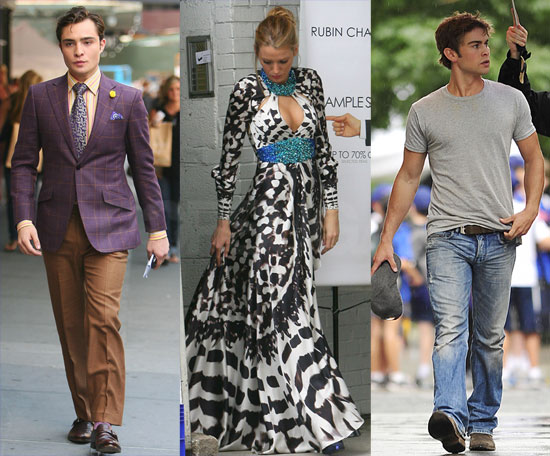 To see more of Blake, Chace, Ed, Katie, and Leighton on set, just read more.