Pictures of Brad Pitt and Angelina Jolie on a Date in Bosnia, His Parents Arriving in Venice
See Brad and Angelina's Bosnia Date Night Before His Parents Arrived in Venice!
Brad Pitt and Angelina Jolie arrived back in Venice on Wednesday following their quick trip to Bosnia, and the couple evidently was able to fit a night out into their philanthropic itinerary. After filling their day hours in the country visiting with displaced villagers, they happily posed for photos with another family during their evening meal at a hotel restaurant in the city of Gorazde. Yesterday, though, she and Knox took to their hotel's balcony for another chance to examine the sky. Knox sadly threw his stuffed animal over the ledge, but he seemed to be consoled by whatever was up in the air! Angelina was already back to working on The Tourist today in Italy, leaving Brad in charge of their kids. He brought Shiloh, Pax, and Maddox along this afternoon for a boat ride to the train station, where they picked up his parents, Bill and Jane, to kick off their visit.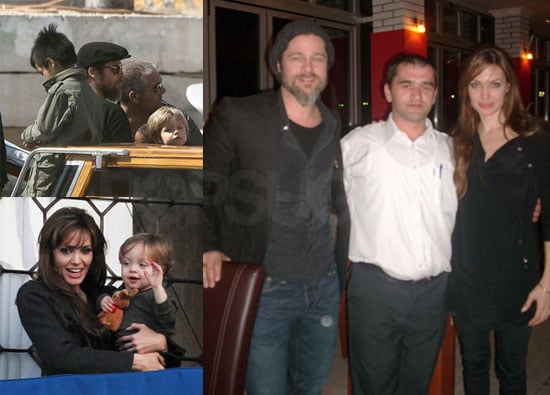 To see more of the Jolie-Pitts just read more.