Pictures of Brad Pitt, Angelina Jolie, Maddox and Pax Jolie-Pitt Playing in the Ocean
Brad and Angelina Enjoy Cocktails at a Beach Party with Maddox and Pax!
Brad Pitt and Angelina Jolie sipped on drinks and chatted with friends while Maddox and Pax hit the beach at a Memorial Day weekend party in Malibu yesterday. Angelina stuck with white wine and Brad took it up a notch with his salt-rimmed margarita during their affectionate afternoon. The family has had a fun-filled week in LA including Shiloh's fourth birthday, but this time it was just the older boys, who boogie boarded and played in the sand with some other kids. Next up it's Brad's turn to film his long-awaited Moneyball, and Angelina starts promoting Salt before its July release. The Jolie-Pitts spent their Spring exploring Venice and they're kicking off Summer in sunny California.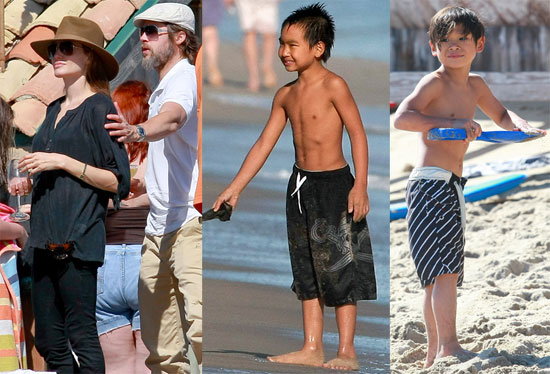 To see more photos of the Jolie-Pitts' beach party, just
.