Pictures of Brad Pitt Doing an Interview With Brian Williams in New Orleans
Brad Pitt Looks Super Hot Talking Katrina, Make It Right in NO!
Brad Pitt looked handsome in denim on denim shooting an interview with Brian Williams in New Orleans today. The segment will air on this Sunday's Meet The Press. He's there to talk on the fifth anniversary of Hurricane Katrina, a topic he spoke passionately about in Spike Lee's new documentary that aired this week on HBO. Brad's Make It Right campaign has so far finished about 50 of the promised 150 eco-friendly homes they set out to build in the area, one of which he toured with Brian this afternoon. While he is focusing his philanthropic efforts in Louisiana, Angelina has had a busy week, starting with her visit to Sarajevo. She'll reportedly make her directorial debut with her movie about the war in Bosnia and she also signed on to star in another project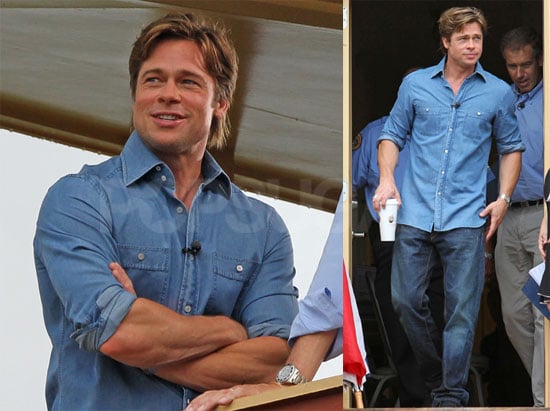 To see more photos of Brad, just read more.