Pictures of Britney Spears in a Pink Bikini in Hawaii With Jason
Pics: Britney in a Hot Pink Bikini For Another Romantic Hawaii Day!
Britney Spears and Jason Trawick kept their steamy Maui vacation going strong yesterday. The singer sported a hot pink bikini and short shorts, which she ditched to hit the pool with a blended beverage in hand. Brit and Jason kept their PDA to a minimum this time after she wrapped her legs around him for an ocean makeout session the day before. As happy as she and Jason are, Brit still shot down rumors that they are headed down the aisle in a double wedding with Jamie Lynn and Casey. After kicking off the trip in a yellow two-piece, Britney's tanned and toned body is looking fantastic to finish off her long August in the recording studio, spending time with her sons and filming Glee. The Hawaii getaway is the perfect way to cap off Britney and Jason's Summer of love!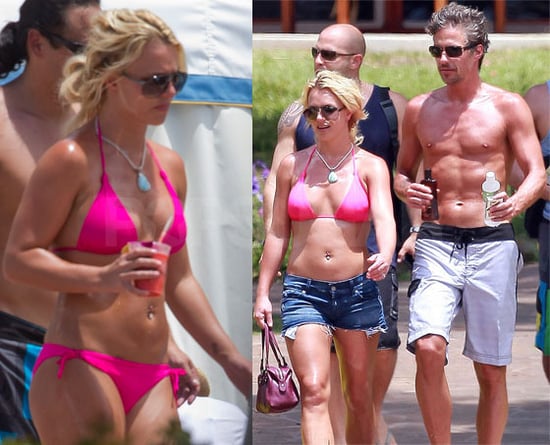 To see more of bikini Brit and Jason, just
.