Pictures of Celebrities in Bikinis Including Kristen Stewart, Halle Berry, Jennifer Aniston, Katy Perry, Gisele Bundchen, More
Best of 2010: Who Has the Hottest Bikini Body of the Year?
Our favorite sexy females stripped down to tiny bikinis all year long from the beaches to the pools around the world. Jennifer Aniston was the 2010 bikini bracket champion, narrowly beating out Sports Illustrated swimsuit cover girl Brooklyn Decker. In 2009, Bar Refaeli was the two-piece queen, winning both the bracket and handily getting the most votes in our best-of poll. Gisele Bundchen and Halle Berry are super-hot moms while Twilight's Kristen Stewart stripped down with Robert Pattinson in Brazil. Britney Spears is back on top while Katy Perry, Sienna Miller, and Cameron Diaz glowed with love during their skin-filled romps. It's a tough call, but only one of these gorgeous women can take home the crown, so tell us — who do you think has the hottest bikini body of 2010?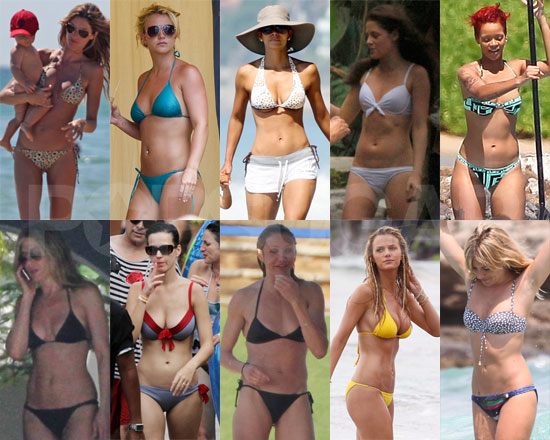 Don't miss all the Best of 2010 coverage, polls, slideshows, and more on the PopSugar Network!