Pictures of Channing Tatum And Jenna Dewan at The Premiere of Earth Made of Glass During The 2010 Tribeca Film Festival 2010-04-27 07:45:00
Channing Talks Birthdays and "Serious" Katie Holmes With Jenna at Tribeca!
Channing Tatum and his wife, Jenna Dewan, hit the red carpet last night during NYC's Tribeca Film Festival for the premiere of the film Earth Made of Glass, a documentary they coproduced about the conflict in Rwanda. Channing didn't mind working on his 30th birthday — which we honored by taking a look back at his many shirtless moments! — telling us that he and Jenna actually celebrated on Saturday. He was still sporting his mustache required for Son of No One, and Channing said that his costar Katie Holmes is a serious actress who shows up and is all about the work. Jenna, meanwhile, weighed in on their upcoming one-year wedding anniversary, saying, "I don't know what we're doing, but we better do something!" Their friends Nick Zano and Haylie Duff came out to lend their support, and she shared all about her sister Hilary's upcoming wedding. Hilary's staying low-key about all the planning, but Haylie said, "I don't think the surprise of the proposal ever wears off."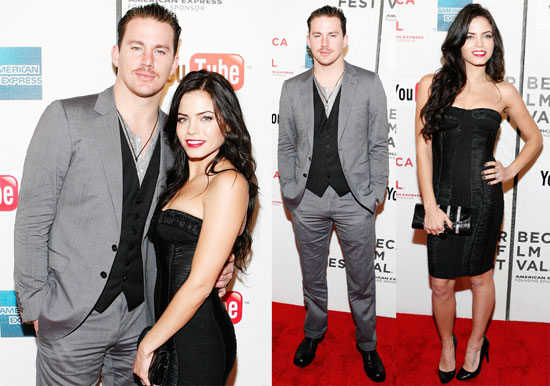 To see more photos from the Earth Made of Glass premiere just read more.