Pictures of Christina Applegate, Rob Lowe, Katie Couric and Cindy Crawford at the Stand Up to Cancer Event
Gwyneth Paltrow, Sofia Vergara, and Ryan Seacrest Stand Up to Cancer Together
Vanessa Hudgens, Kristen Bell, and Mandy Moore walked the red carpet on Friday before heading in to take their seats at the Stand Up 2 Cancer phone banks in LA. The hour-long telethon was broadcast on multiple major networks and streamed across the web, and the effort raised more than $100 million dollars for research in the fight against the disease. Modern Family's Sofia Vergara and mom-to-be Christina Applegate, both of whom battled cancer in the past, proudly modeled t-shirts that read "Survivor."
Gwyneth Paltrow arrived on the West Coast on Thursday, ready to add her support to the event after attending Fashion's Night Out in London last week. She caught up with Kareem Abdul-Jabbar, while Rob Lowe joined Diane Lane. Cindy Crawford, and Chuck's Zachary Levi helped in collecting donations, and fresh-from-Mexico Ryan Seacrest also lent his star power to the cause. Contributions to the charity are still being accepted, and they're even open to making good use of Facebook credits!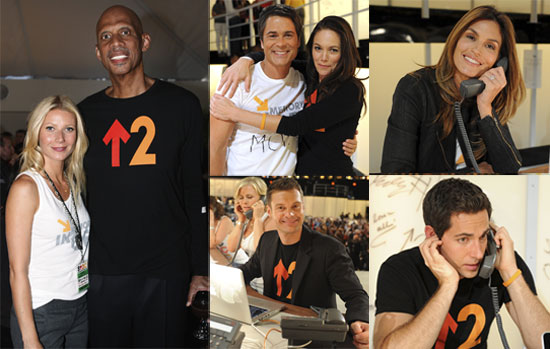 To see more photos from inside the event, just read more.
Images include: Vanessa Hudgens, Tony Hawk, Cindy Crawford, Diane Lane, Rob Lowe, Sally Field, Nia Vardalos, Marissa Winokur, Rashida Jones, Zachary Levi, Alison Sweeney, Ryan Seacrest, Seth Rogen, Seth MacFarlane, Marlee Matlin, David Archuleta, Mandy Moore, Elizabeth Banks, Christina Applegate, Eric Stonestreet, Mark Harmon, Dave Annable, Donald Faison, Jim Parsons, Cheryl Hines, Jay Leno, Hank Azaria, Daryl Hall, Randy Jackson, Maura Tierney, Ken Jeong, Dr. Mehmet Oz, Sally Field, Kristen Bell, Mandy Moore, Jennifer Grey, Emily Deschanel,, Fran Dresher, Anne Heche, Kareem Abdul-Jabbar, Gwyneth Paltrow, Minka Kelly, Kelly Osbourne, Abigail Breslin, Elizabeth Edwards, Marcia Cross, Jaime King, Marg Helgenberger, Gabrielle Union, Katie Couric, Sofia Vergara, Renee Zellweger