Pictures of David Arquette Dancing With a Random Brunette
David Arquette Spotted Grinding With a Brunette — Get Low or Go Home?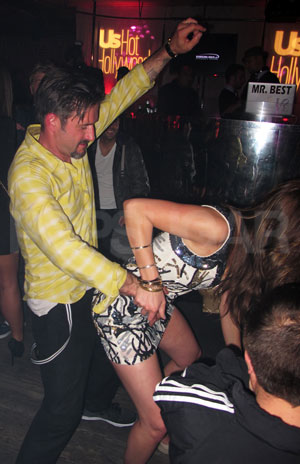 David Arquette was among the celebs who let loose last night at Us magazine's Hot Hollywood: Stars Who Care party held at The Colony in LA. He hit the gray carpet alongside actor pal Greg Beacher, but once David got inside, his attentions were largely focused on the backside of a young brunette friend. Things apparently got even crazier, as David left the bash in a new tank top.
David is free to dance with whomever he wants after announcing his separation from wife Courteney Cox, though the duo remain close. They reunited over the weekend to attend a charity bowling day and have been spotted together on Halloween and at their daughter Coco's equestrian event. It's always fun to see a celeb naughtily dancing, but tell us what you think of newly single David's grinding — get low or go home?