Pictures of David Beckham, Landon Donovan, Tim Howard And More at The 2010 World Cup 2010-06-14 02:00:00
America Ties England in a First World Cup Match as David Beckham Looks on and Kelly Preston Shows a Bump!
The World Cup action swung into high gear over the weekend in South Africa — refresh your soccer knowledge with our handy guide to the games! David Beckham was suited up to guard the sideline Saturday as England took on the US in Rustenberg. Despite the best efforts of Americans Landon Donovan, Clint Dempsey, Carlos Bocanegra, and Tim Howard, the match ended in a 1-1 tie, and our sole goal was largely the result of England's goalie Robert Green not properly blocking an easy shot. David was none too pleased over on the bench, but he'll still be out supporting his countrymen when they play Algeria on Friday. Landon, Tim and the gang, meanwhile, will be out the same day taking on Slovenia. John Travolta and his pregnant wife Kelly Preston arrived in South Africa last week, but they skipped Saturday's excitement on the field. Instead, they attended a benefit for the Nelson Mandela Children's Fund in Johannesburg with Kelly showing off her baby bump in a maxi-dress.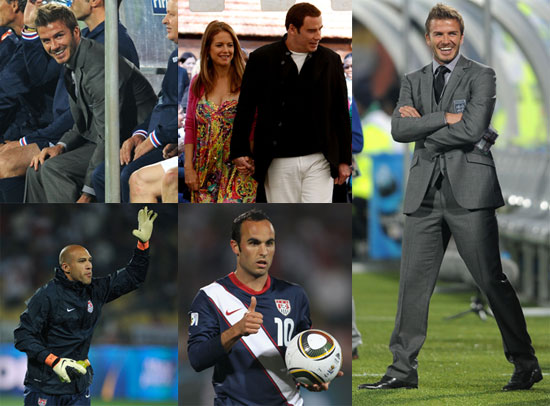 To see more from the weekend, just
.