Pictures of David Beckham Out to Dinner With Victoria Then Attending an Event With His Boys
Beckham Goes From Dad Duty to Shirtless Underwear Flashing on the Soccer Field!
David Beckham mixed up date nights, gaming with his boys, and soccer during a jam-packed weekend in LA. He kicked things off Friday by going to dinner at Matsuhisa with his influential wife Victoria and friend Tana Ramsay. On Saturday, David brought Brooklyn, Romeo, and Cruz along to join celebs like Ashley Tisdale and Ryan Phillippe at an XBox 360 event. David's been rocking geek chic frames when he's not modeling sunglasses for Posh whose new collection of shades is out next month. The Beckhams are also gearing up for Halloween and their bulldog Coco is already sporting festive nails. Yesterday, Posh and the boys were back in their cheering section to watch as David scored a goal during the Galaxy's 2-1 win over FC Dallas. Becks has been flaunting his sexy legs and impressive abs during almost every game this season and he took it to the next level, changing his shorts on the sidelines!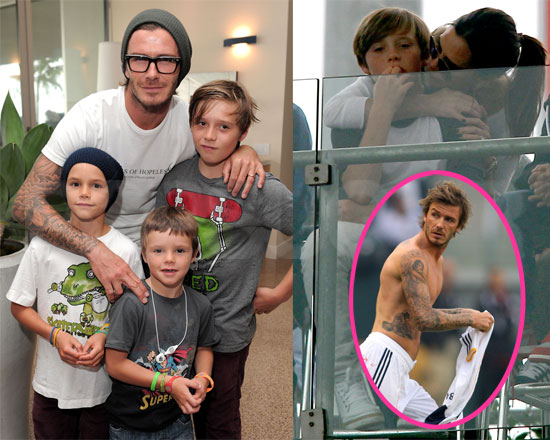 To see more photos of David and Posh over the weekend, just read more.