Pictures of David Beckham, Victoria Beckham, Romeo, Brooklyn, and Cruz Going to Pinkberry in LA
The Beckham Five Finish the Week With a Pinkberry Trip!
David and Victoria Beckham brought their three boys to Pinkberry in Beverly Hills today. David's getting more mobile in his walking boot and was able to carry Cruz as Romeo, with his skinny jeans and wallet chain, led the way. Victoria and Brooklyn also held hands as they headed back to their car after the family outing. Last night Victoria was solo on the red carpet while David stayed home to help the kids with their homework, which was rewarded with a Friday morning sweet treat. This week, Victoria also made an appearance on Idol Gives Back, joining the all-star group who came out to support the annual charity event.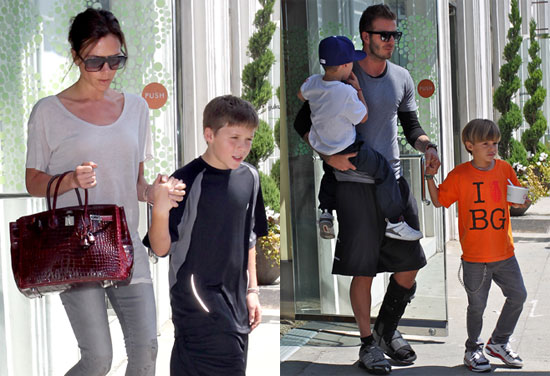 To see more of the Beckhams getting yogurt just
.