Pictures of David Duchovny, Ashley Tisdale, Matt Lanter, Ed Westwick, and More at the CBS TCA
Talk Turns to Twilight at the CBS TCA Party For Ed Westwick, AnnaLynne McCord, and More!
After a full day at the TCA panels, the stars of CBS, CW and Showtime stepped out for their star-studded bash. Ed Westwick was a treat to chat with as he represented the Gossip Girl cast. He was eager to talk about the fate of Chuck Bass and even share his thoughts on Robert Pattinson and Kristen Stewart. The cast of 90210 took a break from their busy Summers to attend as well. AnnaLynne McCord has had a great few months of traveling with her boyfriend Kellan Lutz, but it turns out that Eclipse wasn't her favorite blockbuster of the season — it's a tie between Inception and Iron Man 2 because of their two amazing lead actors! Her costar Matt Lanter has his own Twilight connection after appearing in the spoof Vampires Suck, and he revealed that he read the first of Stephenie Meyers's books "as research." Matt hasn't had the chance to meet Rob, but he would love to one day.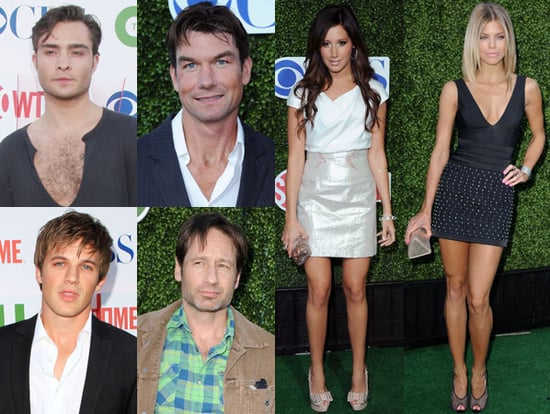 Jerry O'Connell, meanwhile, took a break from promoting The Defenders to gush about his life with the twins and wife, Rebecca Romijn. He says that being a dad of girls is the only way to go! David Duchovny and Ashley Tisdale also turned out for the celebration, and he's busy today with a panel for Californication, as she chats up her new show Hellcats — there's lots more to come, so stay tuned to Buzz on Twitter for updates from the panels!
To see more from the CBS party, just read more.
Images include: David Duchovny, Jerry O'Connell, LL Cool J, Ashley Tisdale, Oliver Hudson, Ed Westwick, AnnaLynne McCord, Gabourey Sidibe, Michael C. Hall, Matt Lanter, Shane West, Maggie Q, Chris O'Donnell, Eva LaRue, Patricia Arquette, Samantha Harris, Laura Linney, Tom Selleck, Shenae Grimes, Sela Ward, Leah Remini