Pictures of Denzel Washington, David Beckham, Jaden Smith, Justin Bieber at a Lakers Game
David Has a Bieber Reunion Then Talks to Seacrest About His Love For Tighty Whiteys
David Beckham joined his usual basketball buddy last night to watch as the Lakers beat the Rockets 112-110 during their home opener. Sharing the courtside luxury were Leonardo DiCaprio and Denzel Washington after his Unstoppable premiere. David was back at the Staples Center after bringing his sons to see a Justin Bieber concert there on Monday. Justin was likewise out again, sitting next to his friend Jaden Smith. Later today, David will be on the small screen when his appearance on The Ellen DeGeneres Show airs. Becks spoke to Ellen about his plans to stay in LA for the duration of his Galaxy contract and Victoria came to weigh in on David's home making skills. Posh joked with David about his alleged cleanliness, saying, "He always says that he is tidy, but you're not actually that tidy — are you David?" David then replied, "We're going to have our first argument in 11 years!" David's on an interview roll, and today he opened up to Ryan Seacrest about his boys getting older, showing his underwear on the soccer field last weekend, and his fondness for briefs. David said: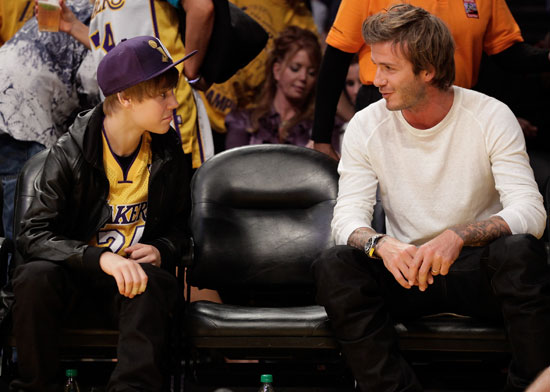 On changing his shorts on the field: "We're not meant to, but I'd cut my finger at the start of the game and I kept wiping it on my shorts. The rules are that if you have any blood on your shirt or your shorts you have to change them, and since I had it all over my shorts I had to change them . . . to be honest the crowd was pretty quiet, so why not excite them a little bit?"
On wearing tighty whiteys: "Yes, I do . . . they're comfortable!"
On having "the talk" with Brooklyn: "We've had it with Brooklyn . . . it was more Victoria than me. I had to walk out of the room, because Brooklyn was looking out of the corner of his eye, like laughing, and I'm going, I need to get out of here because it's a serious talk!"
To read what David says about his post-Galaxy plans, Brooklyn someday dating, and his boys' Halloween plans, just read more.
On what he'll do when his Galaxy contract is over: "Spend time with the boys — they're probably sat down eating breakfast right now. Morning boys! Have a great day at school, I'll be there to pick you up. Love you! So you know, spend time with the boys, but one thing I'm passionate about is the charity stuff. I'm an ambassador of UNICEF and other stuff, so I want to do a lot more of that."
On his sons: "They're growing older pretty quickly, especially Brooklyn. He's at a new school, and he's loving it. He's kind of noticing certain attention from certain people . . . "
On when Brooklyn can date: "That's a question for Victoria. Victoria will answer that a little bit different from me."
On the boys' Halloween plans: "Romeo is going to be Justin Bieber or a break-dancer, Cruz is going to be Elvis, and Brooklyn is going to be me . . . he's literally going to wear a Galaxy shirt and shorts."