Pictures of Diane Kruger at an Event in LA 2010-10-20 13:30:00
Diane Kruger Stops to Inhale After Sharing on Josh's Style, Scent, and the Possibility of Her Own Line
Diane Kruger cozied up to actor Dermot Mulroney last night at a home in LA where they toasted their new film Inhale. The duo star together in the thriller, in which they find themselves exploring the black market of organ donation in order to save their child's life. Fortunately, Diane spent her afternoon on a slightly more chipper topic when she was the guest of honor at a special lunch for Calvin Klein's Beauty fragrance. Diane, who's the face of the scent's ad campaign, also sported one of the brand's designs on Monday at Elle's Women in Hollywood event, where she shared all about which ladies she'd love to do a movie with. She spoke to Bella, though, about her boyfriend Joshua Jackson's style and smell, also revealing her thoughts on starting her own line. Diane said: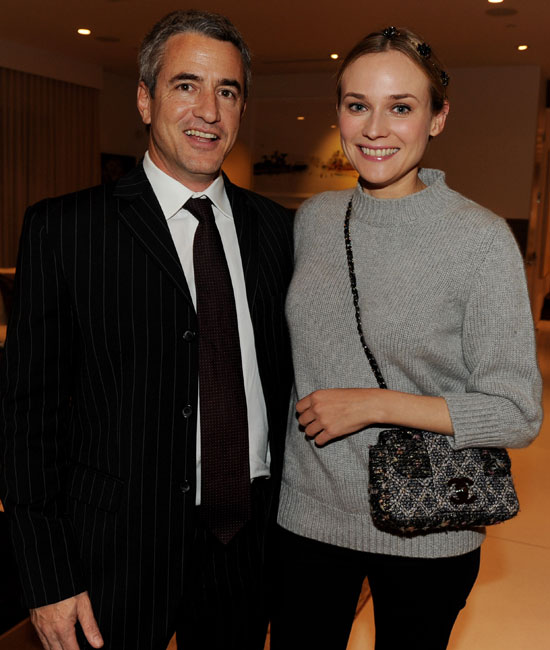 On Josh's sense of style: "You know actually I think men, I'm sure it's the same for you, when they are single they don't think they need to make the effort. But once you sort of nudge them a little bit, they take pride in looking good. I actually come back now and he's gone shopping."
On the scents she likes on a man: "It's very personal; the few boyfriends have never smelled the same. You know it goes with the personality. So actually many years ago a boyfriend used Eternity and it was amazing on him. I bought it for Josh and it really didn't work on him. Actually it was kind of creepy, it wasn't so good. So I feel like he has to come up with that. I like a musky one for sure."
On the advice she'd give her 22-year-old self: "Relax! I was not a relaxed 22-year-old. I was a model, I was living in New York City and I thought everything was important, everything was a major crisis in my life. I would not want to be 21 or 22 again."
On doing her own line: "I would do one piece with Karl or someone that I love, but I don't think I would be a good designer. I think I know what works on me, but I am not very good at dressing other people, you know what I mean? In fact I think it's so individual that it's very hard for me to predict what I might be wearing or what would be trending in six months. Like I find that amazing that people can do that."
Stay tuned to Bella for lots more from their lunch with Diane tomorrow!