Pictures of Emma Stone, Andrew Garfield, Colin Firth, and Helena Bonham Carter at the 2011 BAFTA Awards
Colin, Emma, Amy, Andrew, and More Celebrate the King's Speech at the BAFTAs
Last night's BAFTA Awards in London brought out many award season regulars, with Amy Adams and Emma Stone leading the way for the ladies in their bright gowns. Emma Watson, meanwhile, picked a nude Valentino to support her Harry Potter films. Jessica Alba, with red lips and braided hair, picked the popular color of blue in Versace, along with a Tom Ford-clad Julianne Moore and Jennifer Lawrence in Stella McCartney. One star missing from the red carpet was Natalie Portman, whose Black Swan director, Darren Aronofsky, ended up taking home her best actress honor. Emma is so far winning as the evening's best dressed, but who's your pick?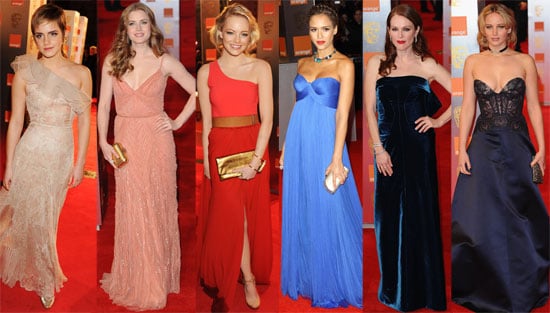 The King's Speech took home best film, with stars Colin Firth, Helena Bonham Carter, and Geoffrey Rush each also collecting wins for best actor, supporting actress, and supporting actor. Colin and more represented the sexy guys at the show, with Spider-Man himself, Andrew Garfield, on hand alongside his Social Network costar Jesse Eisenberg. Handsome Scottsmen Gerard Butler and James McAvoy also turned out in their tuxes — check out the entire list of winners!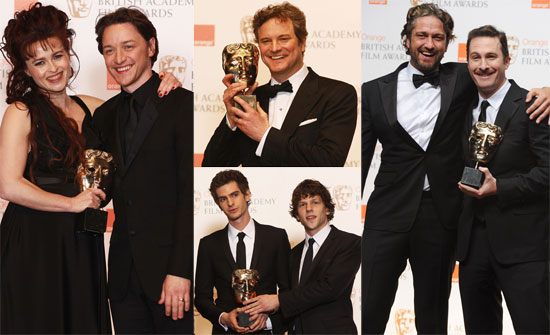 To see more photos from the red carpet and the press room, just
.