Pictures of Emma Watson, Rupert Grint, Daniel Radcliffe at Harry Potter and Deathly Hallows Part I Premiere in London
Emma Watson Steals the Show in a Sexy Mini Dress With Daniel and Rupert at Harry Potter World Premiere!
Emma Watson, Daniel Radcliffe, and Rupert Grint led the way for the rest of the cast at the Harry Potter and the Deathly Hallows: Part I premiere in London this evening. The rainy evening didn't get in the way of the star-studded red carpet, on which adorable Emma looked stunning in her reworked vintage lacy minidress. Despite the cold, she spent hours greeting the multitude of fans who waited hours for a glimpse at the movie's stars. Daniel and Rupert looked dapper in their suits and excitedly signed autographs and waved to the huge crowds. PopSugar UK is twittering live from the event and you can watch a live stream on their site. Emma, Daniel, and Rupert kicked off promotions yesterday with a press event where they also sported the poppy pins in honor of Remembrance Day today. Don't miss all our Harry Potter coverage and stay tuned for more updates from the UK!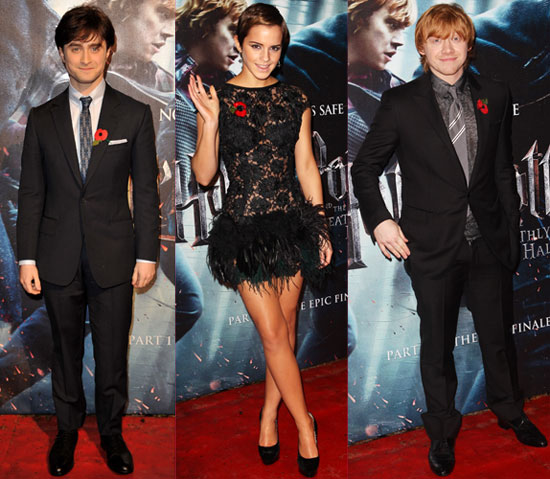 To see more from the premiere, just read more.