Pictures of Engaged Prince William and Kate Middleton Pose For Official Photos
Prince William Gives Kate Middleton His Mother Diana's 18-Carat Sapphire — See Photos of Her Ring!
Prince William and Kate Middleton, both 28 years old, announced today that they plan to marry next year! The couple, who apparently became engaged during a vacation in Kenya last month, stepped out this morning for an official photo session in the State Rooms of London's St. James's Palace. Kate picked a blue Issa dress to match her massive new ring, which was Princess Diana's engagement ring from Prince Charles! The piece of jewelry has an enormous 18-carat sapphire in the middle and is surrounded by diamonds. William said using that ring was of particular importance due to its heritage. He said today, "It is very special to me. It was my way to make sure my mother did not miss out on today and the excitement that we are going to spend the rest of our lives together."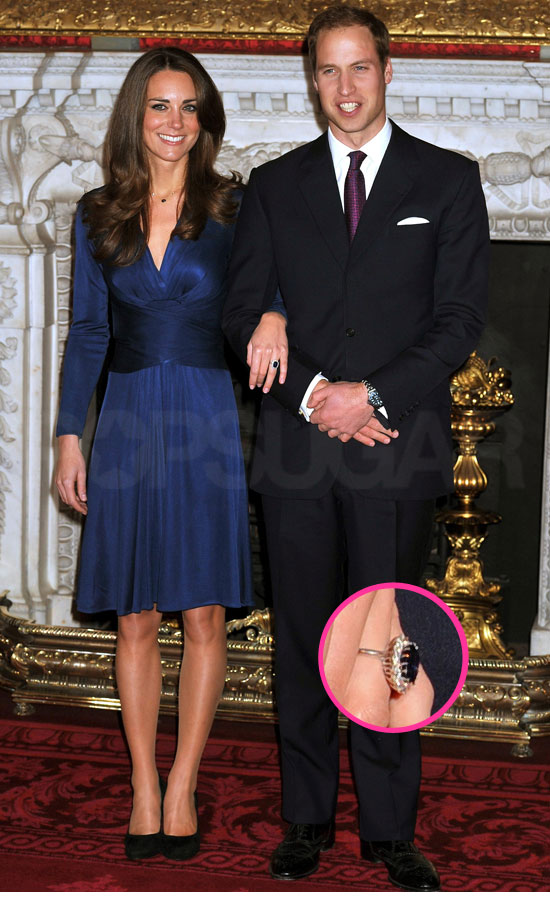 Both William's family, the Windsors, and the Middleton clan are excited at the now public news. Kate's father, Michael, made a statement today, saying, "I would just like to say that Carole [Kate's mom] and I are absolutely delighted by today's announcement and thrilled by the prospect of a wedding sometime next year. As you know Catherine and Prince William have been going out for quite a number of years, which is great for us because we have got to know William very well. We think he's wonderful and we're extremely fond of him."
To see more of Kate's ring and Prince William just read more