Pictures From the 2010 Academy Of Country Music Awards 2010-04-19 09:16:50
Taylor, Carrie, Matthew, and More Celebrate the Academy of Country Music Awards
Last night's Academy of Country Music Awards in Las Vegas brought out many of the genre's most famous couples. Faith Hill and Tim McGraw led the way, while Keith Urban was accompanied by wife Nicole Kidman in a tuxedo-inspired outfit. Presenter Matthew McConaughey arrived with Camila Alves, who showed some leg with her slitted gown. LeAnn Rimes, meanwhile, brought along boyfriend Eddie Cibrian — their night didn't go too well, though, since he was later mocked on stage. Taylor Swift never lacks for male company, but she hit the orange carpet solo.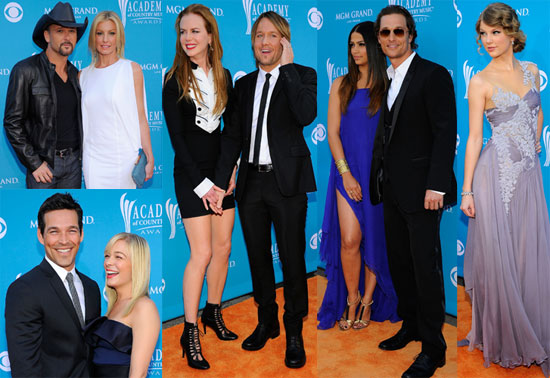 Carrie Underwood had a range of gowns to show off from the stage, but she sported a short white one while in the press room showing off her Entertainer of the Year statue. She spoke about her upcoming wedding to hockey player Mike Fisher, saying that they aren't stressing the ceremony details but she knows he'd love her even if she was 800 pounds. Mike wasn't there to celebrate with Carrie, but she still got lots of attention from Matthew McConaughey when he gave her a pair of boots as a gift. Matthew also joked from the stage that at last year's ceremony he and Camila conceived Vida afterward, causing an embarrassed Camila to put her head in her hands while in the audience. The biggest winner of the night was Lady Antebellum, who took home a grand total of five awards.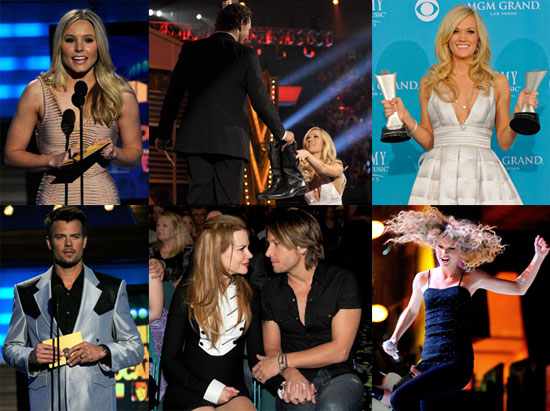 To see more from the show just
.
Images include: Nicole Kidman, Keith Urban, Matthew McConaughey, Faith Hill, Camila Alves, Tim McGraw, Taylor Swift, Eddie Cibrian, LeAnn Rimes, Miranda Lambert