Pictures of Gisele Bundchen and Jack, Tom Brady Playing Thanksgiving Patriots Game
Gisele Bundchen Bundles Up Jack and Gets Flowers From Husband Tom Brady!
Gisele Bundchen was all about the guys in her life during a busy Sunday in NYC yesterday. The new face of Balenciaga took her stepson Jack Moynahan and husband Tom Brady out shopping in the big city before the couple headed out for a romantic date night at Nobu. The all-star quarterback showed off his sweet side by taking care of all their bags during the outing and bringing a bouquet of flowers for Gisele at dinner. She is back stateside after a quick trip to St. Barts last week for a risqué butt-bearing photo shoot. She returned to finish up the long Thanksgiving weekend with her boys and help celebrate Tom's latest Patriots triumph on the field. In his weekly radio chat this morning, Tom revealed that he didn't watch any other NFL games during his "great" holiday long weekend, instead opting to spend time with his family. His and Gisele's son Benjamin is turning one next week, which means more festivities for the Bundchen-Brady clan.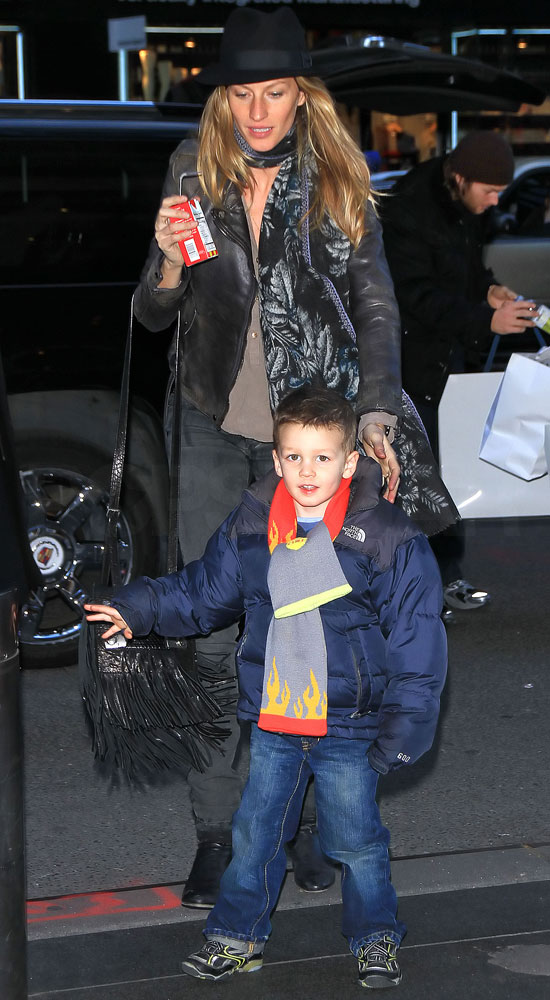 To see more of Gisele, Tom, and Jack, just read more.