Pictures of Gisele Bundchen Modeling in 2010 After Giving Birth
Biggest Headline of 2010: Gisele Bundchen Gets Back to Modeling After Giving Birth!
We're looking back at the biggest headlines of 2010, and we'll be revealing more throughout the month of December. Here's one of the stories that created the most buzz over the past 12 months and don't miss the rest of our Best of 2010 coverage across the network!
Gisele Bundchen welcomed Benjamin Brady in Dec. 2009, and it didn't take long for her to pick up right where she left off with her booming career. She debuted her post-baby bikini body on the cover of Vogue in April of this year, sharing a sweet photo of her son inside the magazine. Just a few weeks later, Gisele was back to promoting products around the world and posing in her skimpy two-piece for her skin care line and an Italian swimwear brand.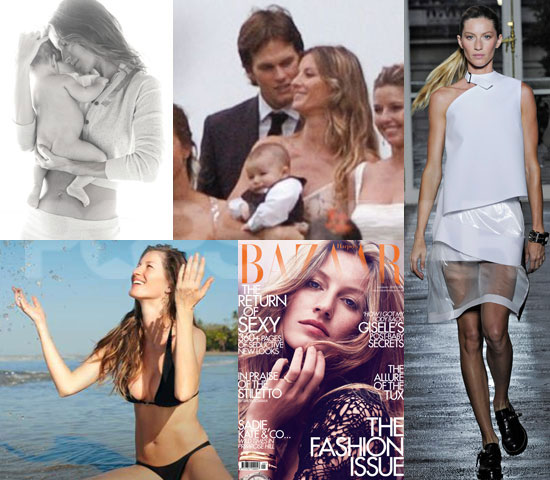 In June, she made her big return to the runway for Colcci's fashion show in her native Brazil, and before the Summer was over, Gisele graced the pages of Harper's Bazaar UK. She joined model mom-to-be Miranda Kerr on the Balenciaga catwalk during Paris Fashion Week in September, and celebrated 15 years in the industry with a sexy Vogue Brazil spread in October.
Gisele not only made her modeling comeback in a huge way, but she also took time to enjoy her adorable family. She traveled to Brazil and Paris with Tom and Ben, sharing fun park dates and beach days. She also managed to sneak in some hot couple time with husband Tom Brady throughout the year.