Pictures of Glee Cast Members Lea Michele, Cory Monteith, Jane Lynch, Matthew Morrison, and More
See the Whole Cast of Glee Partying at Bar Marmont Last Night!
The return of Glee is just a few hours away and we're not the only ones getting excited! Last night the whole cast including new additions like Idina Menzel and Molly Shannon got together at Bar Marmont to celebrate. Inside the party, newly engaged Jane Lynch gushed about her fiancee, Lara Embry, while the show's creator Ryan Murphy showed some love for his stars. Cute Matthew Morrison and Cory Monteith posed together — check out our message from Cory in today's PopSugar Rush and enter to win a trip to LA for a Glee photo shoot!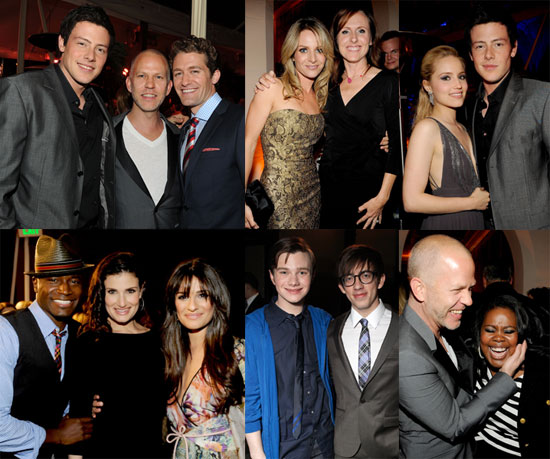 Lea Michele lived up to her fashion-forward reputation, channeling Nicole Richie with bold new bangs while Dianna Agron looked gorgeous in her silver gown and Amber Riley in her little black and white number. Lea said her long dress was pulling double duty — not only did she look great but it also covered up a knee injury she got filming the Lady Gaga episode this week. Sounds like there's a lot to look forward to from the show, like next week's Madonna bonanza!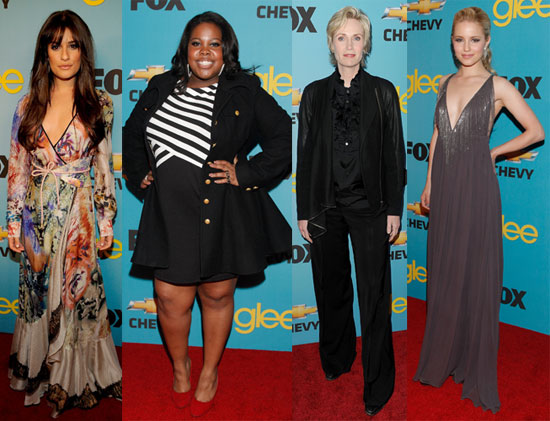 To see lots more from the party just
.
Images include: Dianna Agron, Cory Monteith, Lea Michele, Molly Shannon, Taye Diggs, Kevin McHale, Idina Menzel, Jane Lynch, Matthew Morrison, Jessalyn Gilsig, Chris Colfer, Harry Shum Jr., Jenna Ushkowitz, Mark Salling, Amber Riley