Pictures of Iron Man 2 Star Scarlett Johansson Shopping in LA
Scarlett Talks About Her Hot Lycra Catsuit and Marriage to Ryan
Scarlett Johansson joined a friend on Thursday to pick up a few things at Neiman Marcus in LA. She's on the West Coast after hitting the red carpet for Iron Man 2, while her costar Gwyneth Paltrow is off handling press duties and addressing their supposed feud in NYC. Scarlett is giving a few interviews herself, and she opened up to Parade about getting into the Black Widow's Lycra catsuit and her marriage to Ryan Reynolds. She said: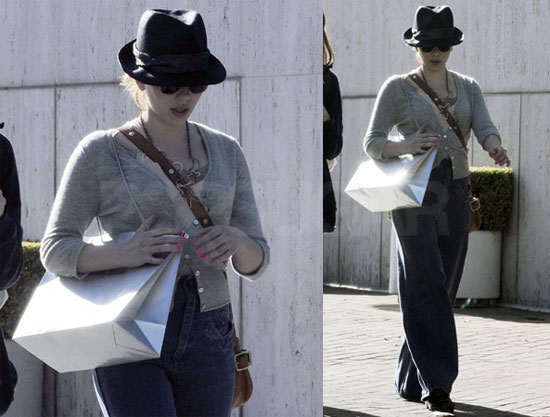 On getting her body ready for Iron Man 2: "I was eating really, really clean. But you can't deprive yourself. That's when you really get in trouble because you have like low energy and feel deprived. I was constantly eating, but it was all super clean food, a lot of veggies and protein, that kind of thing. It makes you feel good, especially when you are exercising. I felt really strong, efficient and athletic, all of those things. It helped me to feel confident about my physicality. It was one less thing to worry about."
On not wanting to play just another sexy superhero: "Playing the Black Widow, I'm so physically active that the suit was the last thing I was thinking about. It was almost an afterthought. I went through months and months of training, so by the time I put on the suit I was ready to go. It was tight, but not too tight. The biggest problem was that it was so hot. I can tell you that being encased in Lycra makes you sweat when you're doing stunts and wire work."
On her marriage to Ryan Reynolds: "I make no big proclamations, nothing. It's not necessarily getting married that changes something that's between two people. It doesn't involve anyone else other than family, children. I think there are couples that are not married in long term relationships that live the same day to day life. But I think good things come with time when you are set with somebody."