Pictures of Jake Gyllenhaal in the November 2010 Esquire UK
Jake Gets Frank About Love, Drugs, and Sex in Esquire UK
Jake Gyllenhaal is fresh-faced at the moment, but he was rocking his full beard when he posed for photos now on the cover of December's Esquire UK. He opened up to a writer at the magazine about shooting those racy sex scenes in Love and Other Drugs, but he didn't touch on his rumored real-life romance with Taylor Swift. Jake spoke at length about him and Anne Hathaway being naked on set and even his love for his sister, Maggie, in the interview, which is available in full when the issue hits newsstands on Thursday, Nov 4. He said: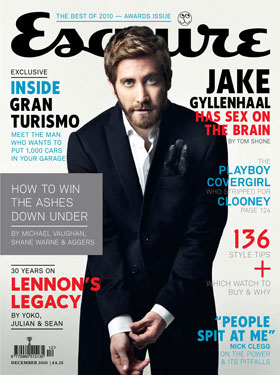 On how to get Anne Hathaway into bed: "We talked about what we thought was sexy, about what were the things that interested us, and through the discussion became pretty intimate with each other."
On sex scenes with Anne: "Annie and I had already had sex on film (in Brokeback Mountain). There's something about the way Annie and I both work which is inherently very musical. It's all about rhythm. There's a rhythm to writing, there's a rhythm to sports, there's a rhythm to sex."
On letting it all hang out on set: "Annie, because as a woman I think it's harder. She said at one point, 'Well, we're both topless and we both show our butts.' And I was like, 'Hmm, but it's a little different for you.'"
On admiration for his sister, Maggie: "I admire her and continue to admire her. That might play into the reason I don't have much of a problem letting the women I've worked with shine. I love women."
To read more about Jake's admiration for Anne and where he's most at ease, just read more.
On his friendship with Anne: "I feel like she's a comrade. The thing about Anne is that she develops her characters in absolute detail. To the point where she went down to the Lower East Side to buy fluorescent bras for her character. I knew Annie could f**king kill it."
On being naked in the movie: "I was naked a lot in the movie. I was naked in more of it than was even in the final cut. A director's cut? I don't even know how that would be rated."
On where he is most at ease: "I think comedy. That's why I loved working with Robert Downey Jr (on Zodiac). He and I had this similar kind of working. His energy is a bit more frenetic than but in terms of work, we meshed."
Photos courtesy Nino Muñoz courtesy of Esquire UK