Pictures of Jake Gyllenhaal at PopSugar Prince of Persia Screening
Jake Gyllenhaal Is Surrounded by Sweet Girls and Says "I'm Your Sex and the City!"
Jake Gyllenhaal wooed a theater full of girls at the special PopSugar screening of Prince of Persia in LA last night. Thanks to Virgin America our contest winner and the PopSugar team flew down for the big event! The winner got to sit down for an interview with Jake — we'll be sharing his take on karaoke, his long hair, and preparing to take his top off on I'm a Huge Fan soon! — before he introduced the movie to the crowd of excited women! He knew what his female audience was looking for and was eager to assure everyone that his shirtless scenes start right at the beginning of the film. He joked about his Memorial Day competition, saying of his own ab-baring role, "I'm your sex and the city!" Jake's an A-List star and he's a total sweetheart too — it was the giveaway winner's 25th birthday, and he presented her with a cake. Check out highlights today on PopSugar Rush and stay tuned for lots more from Jake's girls' night out screening before Prince of Persia comes out May 28!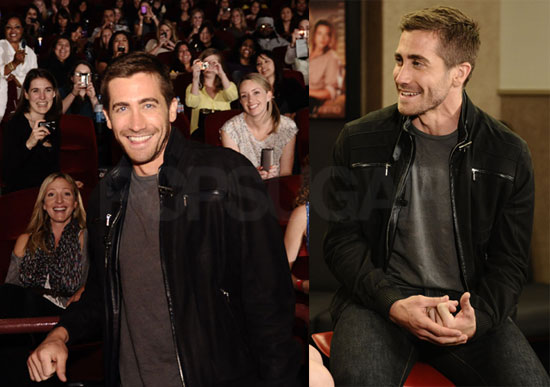 To see more adorable pictures of Jake just read more.