Pictures of James Franco, Justin Timberlake, Jesse Eisenberg, Halle Berry, Carey Mulligan at the Hollywood Awards
Single Carey Hits the Hollywood Awards With Halle, Mila, James, and More
It was another big evening for celebrities in LA last night with the annual Hollywood Awards Gala taking over the Beverly Hilton Hotel. James Franco added a dapper touch to the red carpet after a busy weekend of dinner meetings and attending the 127 Hours junket, while Mila Kunis, who was fresh from promoting Black Swan in London, posed in a black Monique Lhuillier. Leighton Meester was on the West Coast during a break from Gossip Girl duties in NYC, looking fresh and pretty in Elie Saab. Halle Berry picked a similar hue for her latest star-studded event, after bringing Olivier Martinez along for Saturday's Carousel of Hope Ball.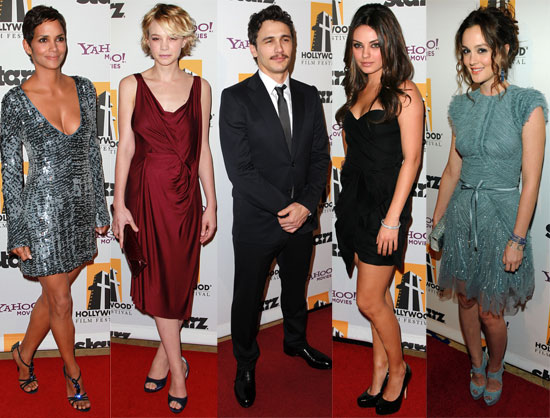 Carey Mulligan, meanwhile, added her own dose of color in a burgundy Giles dress. She was on a break from filming Drive, but it's her personal life that's been making news. Carey apparently really has split from Shia LaBeouf, though yesterday she didn't mention anything about rumored new guy Tom Sturridge. She admitted that another rumor is true too, as she's currently staying at a Best Western hotel. Carey said, "I don't know why people are so down on the Best Western. They have the best sweet potato fries I've ever had." She took the stage once inside the event along with other actors like Zach Galifianakis. Bryce Dallas Howard was on hand to celebrate with a Proenza Schouler-clad Mia Wasikowska, and Justin Timberlake was there with his The Social Network costars like Jesse Eisenberg — click here for info on the honorees and stay tuned for video on PopSugar Rush!
To see more from the event, just read more.
Images include: James Franco, Justin Timberlake, Jesse Eisenberg, Leighton Meester, Halle Berry, Carey Mulligan, Hilary Swank, Noomi Rapace, Bryce Dallas Howard, Mia Wasikowska, Heather Graham, Diane Lane, Josh Brolin, Andrew Garfield, Rashida Jones, Aaron Sorkin, Max Minghella, Sean Penn, Zach Galifianakis, Robert Duvall, Justin Long