Pictures of January Jones, Bar Refaeli, Justin Timberlake, Sienna Miller And More Celebrating After The 2010 Costume Institute
The Costume Gala Fun Keeps Going All Night With the Afterparties
The stars who attended last night's Costume Institute Gala got their posing on the red carpet out of the way before they headed inside to let loose with dinner and a long-awaited performance from Lady Gaga. Oprah played host for the evening and got her fill of tequila before joining Gayle King for the assorted unofficial afterparties taking place all over NYC at places like the Standard Hotel's Boom Boom Room and the Mark restaurant. Justin Timberlake and Jessica Biel stayed close as they headed off for more celebrations, as did Blake Lively in her little Marchesa dress with her boyfriend, Penn Badgley.
Tom Brady and Gisele Bundchen waited for their car to ferry them on to the next spot after she sizzled for the cameras in her leather dress. Tina Fey was off cracking up Liev Schreiber and Naomi Watts while they stood patiently as well. January Jones and Marion Cotillard stuck together as they made the rounds — Marion needed to take off her shoes, though, after all the dancing got to be too much. Bar Refaeli hit the circuit too, and she was spotted busting a move barefoot during a bash with Paula Patton. Katy Perry shared a drink with Topshop's Philip Green when she wasn't playing with fire alongside pal Leigh Lezark. Sienna Miller, meanwhile, changed out of the Emilio Pucci dress you guys are loving into something more casual to hit the Standard with Jude Law. It was a big night for fashion, so make sure to check out all of our fashion and beauty coverage.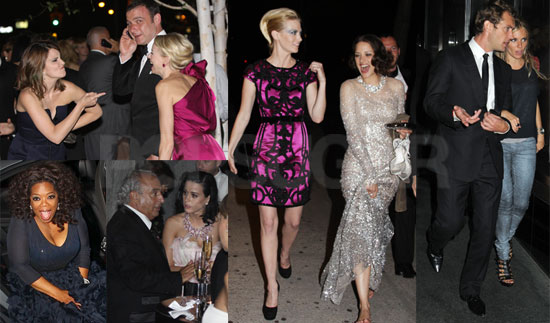 To see more from the stars on their way to their afterparties just read more.
Images include: Justin Timberlake, Jessica Biel, Tina Fey, Liev Schreiber, Naomi Watts, Blake Lively, Penn Badgley, Kate Hudson, Stella McCartney, Jude Law, Sienna Miller, Gisele Bundchen, Tom Brady, Bar Refaeli, Oprah Winfrey, Gayle King, Katy Perry, January Jones, Marion Cotillard, Renee Zellweger, MIA, Benjamin Bronfman, Taylor Swift