Pictures of Jennifer Aniston, Brooklyn Decker, And Adam Sandler Filming Just Go With It; Andy Roddick Shirtless
Jen and Adam Work While Brooklyn and Shirtless Andy Roddick Play in Hawaii!
Jennifer Aniston and her costars in Just Go With It Brooklyn Decker and Adam Sandler were up early yesterday to continue filming in Hawaii. Brooklyn later took a break from the set to hit the beach with her tennis star husband, Andy Roddick, who took advantage of their location to get in a hot shirtless run on the sand. Adam later switched out of his morning button down and put on a t-shirt to keep working with Jennifer, who was in a hot pair of short shorts, as the sun went down. The duo was on location at one of the island's resorts, where some of the thousands of people who applied to work as extras finally got a chance to have their moment in front of the cameras.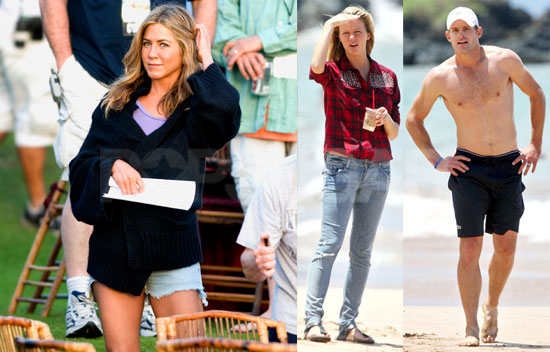 To see more Jen and her costars in Hawaii just
.