Pictures of Jennifer Aniston, Courteney Cox, Vanessa Hudgens, Emily Blunt, Zoe Saldana at Crystal and Lucy Awards 2010-06-02 06:00:00
Jennifer Celebrates Award-Winning Courteney and Young Women in Film With Emily, Zoe, and Vanessa!
Jennifer Aniston and Courteney Cox matched in black at the Women in Film Crystal and Lucy Awards in LA last night. The theme of the evening was "A New Era" and Courteney also spent some quality time laughing and posing with one of the evening's up-and-coming stars, Vanessa Hudgens. Jennifer is back from her month in Hawaii filming Just Go With It where she showed off that amazing bikini body she works so hard to maintain. Last year Jen was the recipient of the Excellence in Film statue at the awards, and she famously joked on stage about her movie titles mirroring her love life. This time it was Courteney's turn to be among the honorees, as was "Face of the Future" Zoe Saldana. The Avatar actress mixed things up in her flirty white dress while all the rest of the women, also including Emily Blunt, were monochrome in their dark dresses. David Arquette came to support his wife, so it wasn't just a girls' night out, but there was a lot of love for the ladies as they celebrated each other's careers.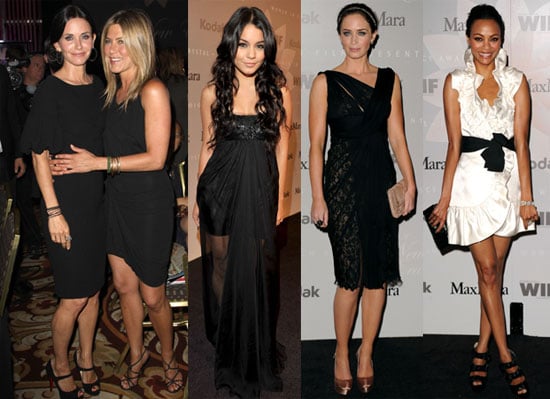 To see more from the awards, just read more.
Images include: Jennifer Aniston, Courteney Cox, Busy Philipps, Vanessa Hudgens, David Arquette, Zoe Saldana, Emily Blunt, Elizabeth Reaser, Debra Messing, Nikki Reed, Sally Field